Hygge Is Good for Caregiving Parents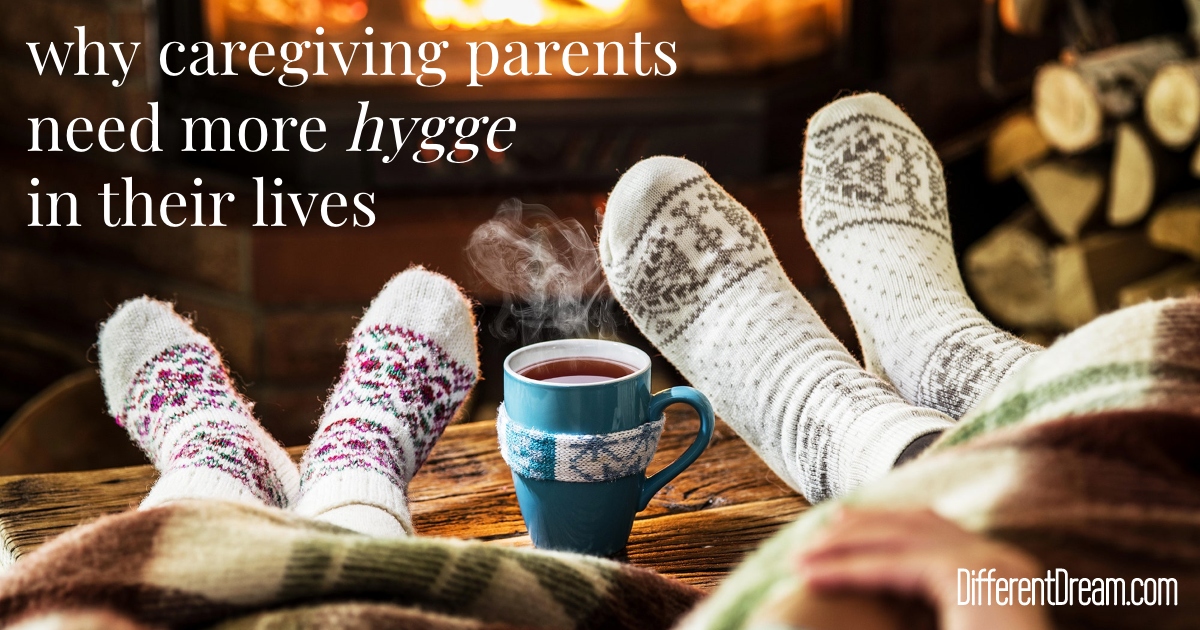 Hygge is good for caregiving parents. So says guest blogger Mark Arnold who is here today to explain what hygge is, cite some impressive research, and encourage caregivers to add it to their lives this winter.
Hygge is a Scandinavian word for the cozy, comfortable conviviality that leads to wellness and contentment. Several studies show that people in the arctic circle have a mindset that helps combat the long, polar night. A bit of hygge might come in handy for parents of children with special or additional needs.
Kari Leibowitz, a health psychologist, conducted research in the Norwegian city of Tromsø, located 200 miles north of the arctic circle. In the depths of winter, it gets only a faint glow of indirect sunlight for a couple of hours a day. Despite this, Tromsø's citizens don't struggle with low mood or seasonally affective disorder (SAD) as might be expected. In fact, Leibowitz found that the general mental health in the city was in excellent shape.
Leibowitz created the Wintertime Mindset Scale to see whether a more positive outlook could explain the resilience of Tromsø's residents. She asked them how much they agreed or disagreed with statements including:
There are many things to enjoy about the winter

I love the cosiness of the winter months

Winter brings many wonderful seasonal changes

Winter is boring

Winter is a limiting time of year

There are many things to dislike about winter
Those that favored the first three statements fared better in the adverse winter conditions than those who favored the last three. Many respondents commented that they didn't understand why people would not enjoy winter, with all of the possibilities of winter walks and skiing, and snuggling under blankets with a warm drink in the candlelight!
What does this research into Scandinavian positivity teach us about why hygge is good for caregiving parents? 
Well, we all know it's easy to be dominated by negative feelings, fears for the future, the mental and physical exhaustion we experience. But if wet rain ourselves to find the positives, to look for the opportunities to learn and adapt, perhaps we can find our own hygge too. We can discover ways to cope during our own times of winter, those dark days where it all seems too much. The more we try it, the better we get at it!
Our aim isn't to sugar-coat, deny the difficulties we face, or hide from them any more than the citizens of Tromsø can pretend that the sun is still rising. However, by growing our own capacity to control our responses to challenges we may develop hidden reserves of strength and resilience to help us face each day.
Hot chocolate anyone?
Do you like what you see at DifferentDream.com? You can receive more great content by subscribing to the monthly Different Dream newsletter and signing up for the daily RSS feed delivered to your email inbox. You can sign up for the first in the pop up box and the second at the bottom of this page.
Mark Arnold is the Additional Needs Ministry Director at Urban Saints, a leading national Christian children's and youth organization. He is co-founder of the Additional Needs Alliance, a national and international advocate for children and young people with additional needs or disabilities. Mark is a Churches for All and Living Fully Network partner, a member of the Council for Disabled Children and the European Disability Network. He writes an additional needs column for Premier Youth and Children's Work (YCW) magazine and blogs at The Additional Needs Blogfather. He is father to James, who has autism spectrum condition, associated learning disability, and epilepsy. To find out more about how Mark's work can help you, contact him at: marnold@urbansaints.org or @Mark_J_Arnold.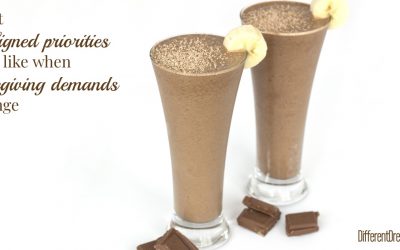 Lately, I've been aligning priorities as caregiving demands change for my mom. Here's what it means for Different Dream, for you, and for me.
read more