We're Cooking Up a Happy Pandemic Birthday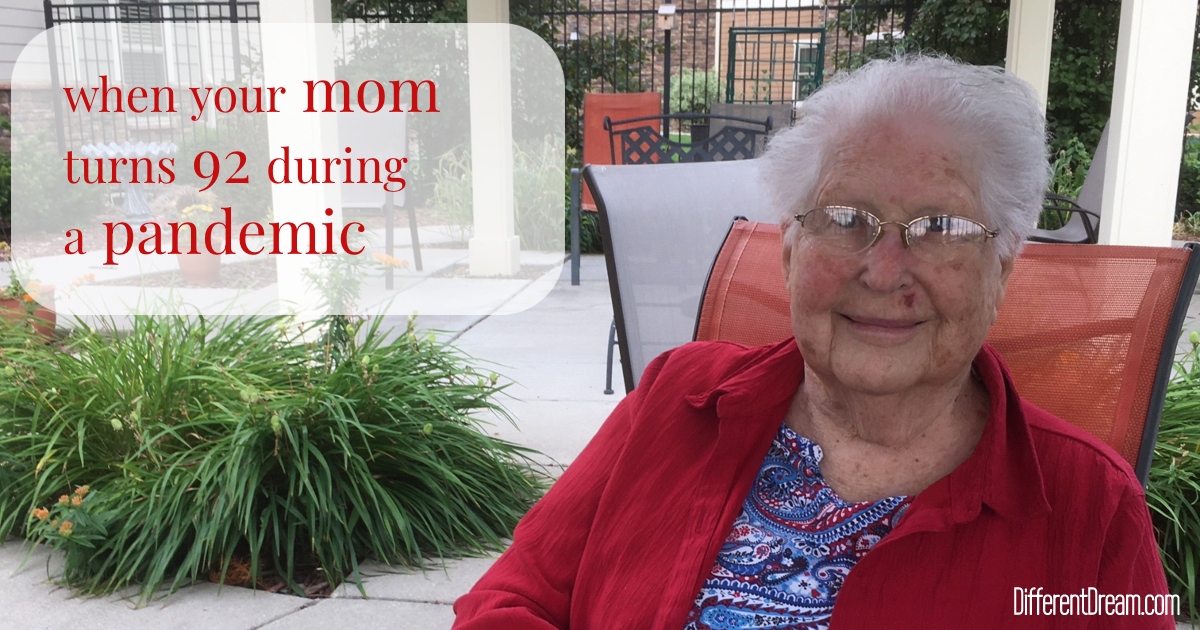 We're cooking up a happy pandemic birthday for my mom who turns 92 years old today. Her residential care facility has been closed to visitors since March, so a big birthday bash is out of the question. Even so we're cooking up a happy pandemic birthday celebration like none other. I'm sharing the recipe in case you'd like to alter the ingredients as needed and whip up a party for someone you love, too.
Ingredients:
1 birthday girl who had to have her teeth cleaned every three months because she doesn't like to brush her teeth anymore
2 of the birthday girl's children who care about their mother's original set teeth, which are all intact
1 global pandemic
1 shut down of all but essential services1 residential care facility devoted to protecting residents from COVID
1 reopened dentist office rescheduling appointments far into the future
1 Culver's restaurant drive through window
3 face masks
3 party hats
1 bottle hand sanitizer
1 package sanitizing wipes
2 smart phones
Assembly directions:
Call the dentist office as soon as your governing body allows dentist offices to open. Ask to reschedule your mother's teeth cleaning as soon as possible because she missed her previous appointment.
Discover that the first available slot is three months in the future. Reluctantly schedule the appointment, which happens to fall on your mother's birthday when you discover the next available slot is several weeks after that.
Tremble violently when you think about breaking the news. It's not going to be pretty because your mother she hates going to the dentist.
Wait until the realization dawns that taking residents from the care facility to medical appointments is the only way to spend considerable time in the presence of your mother, so you will actually be together on her birthday.
Dance with joy, then call your mother and tell her about the appointment. Before she can complain, tell her, "We're cooking up a pandemic birthday celebration." When that doesn't impress her promise that after she gets her teeth cleaned, she can have ice cream. Agree when she says, "That'll be nice."
A few weeks before the appointment, tell the care facility staff about it. Run around like a crazy person taking pictures of family members and whatever will be of interest to her: flowers, house projects, scenery, etc.
Join your sibling at the care facility. Put on face masks and party hats before a staff member brings your mother to the entrance. Sing happy birthday when she arrives. Offer her a party hat and put it away when she refuses.
Drive to dentist office and while waiting in the car until she can go in, show her pictures on the phone.
Before she goes inside, remind her about the ice cream so she'll be nice to the dental hygienist and dentist.
When the appointment is over, immediately drive to Culver's and order her a dish of ice cream, also known as frozen custard.
Use hand sanitizer while waiting for the order to be filled.
After picking up the order, wipe the dish and spoon with sanitizing wipes, and hand it to the birthday girl.
Find a shading parking place and open all the car windows so she, but no one else in the car, can remove her mask and enjoy her ice cream.
While she eats, show her any remaining pictures on your phone.
When she's done, drive back to the care facility. Tell her you love her. Share family stories while waiting for a staff member to pick her up.
Sing happy birthday again when she's picked up at the door and keep singing until you're pretty sure she's returned to the memory care unit and can't hear you anymore.
Drive home and instead of getting mopey because your mom's birthday wasn't a perfect celebration, be grateful that God made a way when there was no way for you to be with her when she turned 92.
Do you like what you see at DifferentDream.com? You can receive more great content by subscribing to the monthly Different Dream newsletter and signing up for the daily RSS feed delivered to your email inbox. You can sign up for the first in the pop up box and the second at the bottom of this page.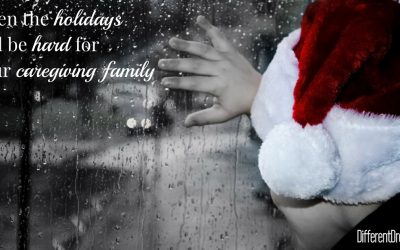 The holiday season can be hard for caregiving families. They can become a little less difficult by looking for pockets of joy.
read more