The Coronavirus Mother's Day Blues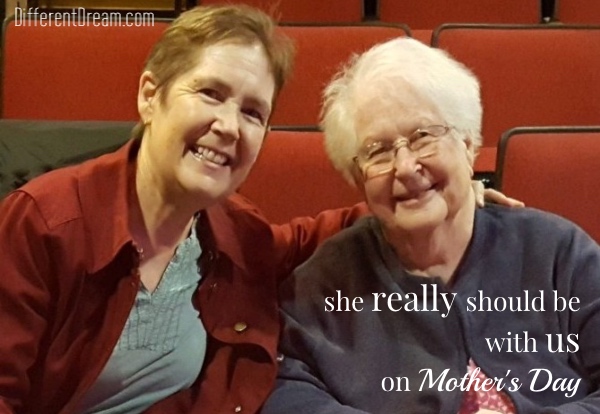 The coronavirus Mother's Day blues have been dragging me down. As the holiday draws closer, the music gets louder and the lyrics get whinier.
Don't get me wrong.
These blues aren't for me. My husband and I live in a multi-generational household with my daughter, my son-in-law, and our two grandchildren. So our Mother's Day celebration will have more than enough hugs and love to go around.
I'm singing the coronavirus Mother's Day blues for my 91-year-old mother.
Her residential home has been closed to visitors since March 12. My siblings and I call her daily. We drive over for window visits every week. The staff coordinates FaceTime visits. Even so, she's becoming more sluggish and less engaged by the day. It stinks.
The lyrics to the song go something like this.
Mom shouldn't be eating dinner alone this Sunday.
She should be with us.
A Mother's Day window visit isn't enough.
She should be with us.
Culver's frozen custard will cheer her up but
She should be with us.
I'll spare you the remaining verses. You can thank me later. Let's get back to the subject of this blog post–my 91-year-old mom who had the rug yanked out from under her when she was 29 and kept going. 
This nasty virus wasn't around when her husband became ill in the late 1950s, but multiple sclerosis was. His diagnosis was my parents' personal COVID-19 moment. Our family and our future were changed by illness in many of the ways people now fear the coronavirus will change theirs. The challenges my parents faced were hard, scary, unfair, and traumatizing. 
Thanks to Mom and her singular determination, our family emerged scarred and stronger.
In deference to the spirit of who Mom once was, I'll sing her praises instead of the blues by passing along something she said in an interview for the newsletter at her care facility.
"What was the luckiest day of your life?" the interviewer asked.
"The day I met my husband," she replied.
"That was a nice thing to say," I said after reading the interview.
"I miss him. I've been lonely a long time." Her tired blue eyes met mine and she added, "He loved you and your sister so much. When I got pregnant again, he said he would be happy to have another girl. You kids made him so happy."
She's 91.
Her memory is failing.
She is so lonely.
She misses Dad so much.
Even so, the message she gave me from my father wrapped me in the blanket of his love. Her words are the reason the coronavirus Mother's Day blues haunt me.
Mom gave me so much, and she's still giving. But the gift I have to give her this Mother's Day is the one she needs the most and wants the least.
It's the gift of not being there, and it breaks my heart.
Happy Mother's Day, Mom. I love you.
Do you like what you see at DifferentDream.com? You can receive more great content by subscribing to the monthly Different Dream newsletter and signing up for the daily RSS feed delivered to your email inbox. You can sign up for the first in the pop up box and the second at the bottom of this page.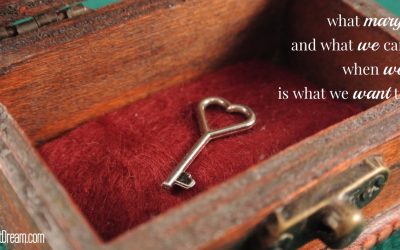 A better question than What did Mary worry about? is How she dealt with worry and how I can deal with parent worries like she did?
read more