Turning Coronavirus Lemons Into Lemonade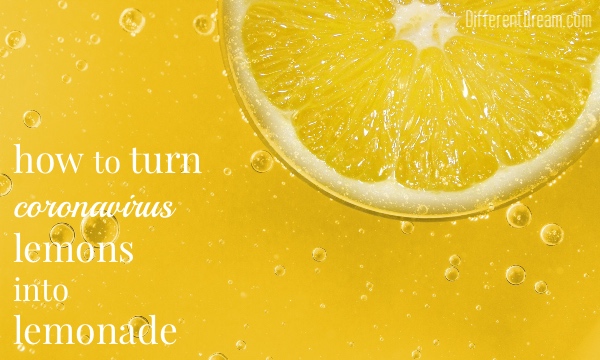 Turning coronavirus lemons into lemonade is no easy task. All over the globe too many are dying, hospitals and their workers are struggling, economies are faltering, incomes are shrinking, and people are trying to make sense of constantly changing, unbelievable circumstances. At least once a day, all the coronavirus doom and gloom pushes the hamster wheel of anxiety in my brain into overdrive.
Can you relate?
I had to do something to regain my mental balance, and so began a daily practice I like to to call turning coronavirus lemons into lemonade. The title may sound sort of Pollyanna to you, like I'm downplaying the severity of the pandemic and its effects, but that is not the case. Rather, my new practice is an attempt to shift the tart bitterness of daily life into something to digest and feed my mind and soul. Here's a closer look at how I've been turning coronavirus lemons into lemonade.
Lemon #1 to Lemonade: My husband is being trained to care for COVID-19 ICU patients
My husband is 64. He is very fit and healthy, but he has an underlying kidney condition. He hasn't worked in ICU for over 15 years, but he has a servant heart and doesn't hesitate to do what's needed. This lemon has the potential to send my brain into high gear several times a day. To stop the spinning, I whisper a prayer of gratitude because my husband has a job, he has job security, and he has a steady paycheck. That realization is sweet comfort to my soul though my heart aches for those who are struggling financially.
Lemon #2 to Lemonade: All my spring and summer speaking engagements have been cancelled.
I look forward to speaking at special needs conferences all year long. They're the place where I meet parents face-to-face and reconnect with colleagues. Also, my ministry is financed primarily through speaking fees and book sales at spring and summer events. But speaking events don't leave much time for writing. So instead of worrying about the money I'm not earning and the people I'm not seeing, I have decided to be thankful for the opportunity to work on a new writing project I've had to put off for years because of lack of time.
Lemon #3 to Lemonade: My 91-year-old mother can't have visitors in her memory care unit.
She's cognizant enough to know why we can't see her, but she's used to daily visits from us and is getting very lonely. She gets 2-3 calls a day from her children and grandchildren, along with cards, letters, and window visits when the weather's decent. Rather than worry about whether or not she's brushing her teeth or putting on clean clothes, both of which I remind her to do in our daily calls, I choose to delight in how Mom ends those calls. She has never been one for verbal or physical expressions of love. But for the first time in her life, she says, "I love you, Jo. Thanks for calling," before she hangs up.
Lemon #4 to Lemonade: Cloth masks are uncomfortable.
Does anyone like them? I think not. On the other hand, I am grateful for a talented seamstress sister who made and mailed masks for everyone in our family. My sister says "I love you" more than our mother does, but it's nice to have tangible proof of the bond between us and to have masks when other people are scrambling to find them.
Lemon #5 to Lemonade: Our house is noisy with kids at home all day long.
My husband and I live intergenerationally with our daughter, her husband, and their 2 kids. Until mid-March the 4-year-old was in afternoon preschool. The silence we adults enjoyed during that time while his 2-year-old sister took a nap is no more. When their boisterousness makes my ears hurt, I think of how vast the silence would be if was alone each day while my husband was caring for COVID patients. What a mercy the distraction of grandchildren is!
Lemon #6 to Lemonade: Our grandson couldn't have a birthday party.
My heart broke when my grandson said, "I don't like that this disease means I can't invite friends for my birthday." I started to dwell on how unfair that was to an innocent little boy, but that made me feel helpless. Instead, I thought about what I could do, which was to invite his extended family to a virtual party so they could wish him happy birthday. He was jazzed to be the center of attention and loved every minute of it.
Lemon #7 to Lemonade: Sheltering in place is becoming wearisome.
Staying home to avoid germs is tiring, and not knowing when the present state of affairs will end is exhausting. So is hand washing for 20 seconds, live streaming church, and watching our supply of toilet paper shrink. However each inconvenience and a myriad of COVID-19 sourness makes me anticipate the blessed hope and appearing of the glory of our great God and Savior, Christ Jesus (Titus 2:13), who will one day make all things right. 
When I consider Christ's eternal sweetness yet to come, my hamster wheel of anxiety stops spinning. My mind and soul find rest. I hope the same is true for you, too.
Do you like what you see at DifferentDream.com? You can receive more great content by subscribing to the monthly Different Dream newsletter and signing up for the daily RSS feed delivered to your email inbox. You can sign up for the first in the pop up box and the second at the bottom of this page.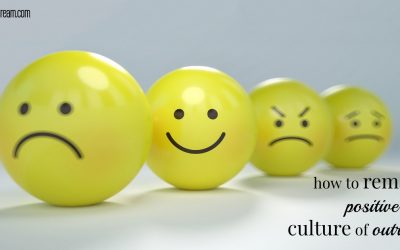 Caregiving in a culture of outrage is hard for those who rely on social media parent groups for support. These strategies make it easier.
read more