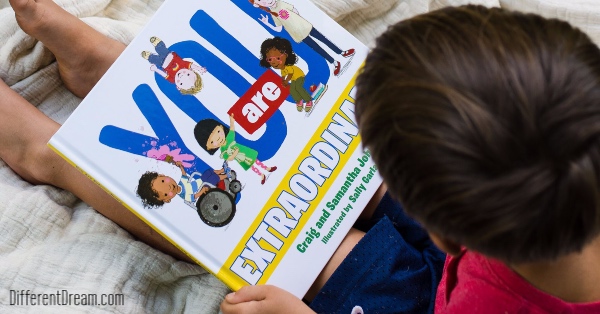 You Are Extraordinary is the new children's book Craig and Samantha Johnson have written to celebrate the uniqueness of all children. They sat down for an interview here at Different Dream to talk about the new book. Enjoy the interview and take a moment to enter the drawing for a chance to win a copy!
Would you tell Different Dream readers a little bit about your family?
We have served in full time ministry together for over 28 years. Craig is currently the Executive Pastor at Lakewood Church
and Sam serves on staff in the Lakewood Missions Department and Lakewood Champions Club. We are the co-founders of Champions Foundation and Champions Club development centers for special needs with over 75 centers around the world. We are authors, speakers, and advocates for those who have special needs or those who are medically fragile. We have been married 29 years and have three children: Cory, Courtney, and Connor.
All parents have a moment when they sit face to face with their children to have an important conversation. The conversations may look a little different, but they have the same goal: to let kids know they are exceptional, unique, and wonderful just as they are. We wanted to write a book that celebrated all kids and helped them learn how to love others well. And also welcome meaningful conversations around special needs, ethnic diversity or whatever makes a child unique.
Who do you feel could benefit from reading this book?
We feel like all children will benefit from reading this book. We have included pages
for the little girl who gets picked on based on the color of her skin
for the young boy struggling with autism
for the kid who is bullied because he is different
for the child in a wheelchair
for the little one who is adopted
for the smart girl who's always being made fun of
or the brave little fighter battling illness
We have also received so many reports from parents telling us how emotional they became reading these affirmations over there child for the first time.
What do you want readers, young and old, to take away from it?
You Are Extraordinary is a book for all children who need a moment of reassurance that God has a plan for their lives, that they are so loved, and we feel what might be the most important message we would like people to take away is that the world is a better place when we treat all people like they are extraordinary. We hope this book will be the catalyst to point your children to their destinies and give them the encouragement they need to succeed.
As parents of a child with autism, what's your number one piece of advice for other parents raising kids with disabilities and special needs?
Never give up hope. Your child has a plan and a purpose. When things are hard and it doesn't make since know that you are not alone. Find a support system. Don't become victims of your situation. As easy as it is to focus on what's wrong with your child, teachers, medical professionals will all draw attention to these things. Focus on the good things your child did do today. Celebrate all victories no matter how small they may seem. Because what is ordinary for most families is a miracle for families like ours. 
What else would you like to mention that hasn't been asked?
Our words have creative power. Whenever we speak something, either good or bad, we give life to what we are saying. Speak victory over your children, telling them, "I'm proud of you. I love you. You are amazing. You are talented. You are beautiful. You will do great things in life." As parents, when we speak words like these over our kids, we are blessing our children's futures.
Thanks to Craig and Samantha for writing You Are Extraordinary and for their willingness to be interviewed. And thanks to the publishers for providing a copy for our drawing. Different Dream is excited to sponsor the giveaway of this gorgeous hardcover children's book. To enter the drawing, leave a comment below about why you want to win. All comments must be received by midnight on Saturday, September 28.
Do you like what you see at DifferentDream.com? You can receive more great content by subscribing to the monthly Different Dream newsletter and signing up for the daily RSS feed delivered to your email inbox. You can sign up for the first in the pop up box and the second at the bottom of this page.