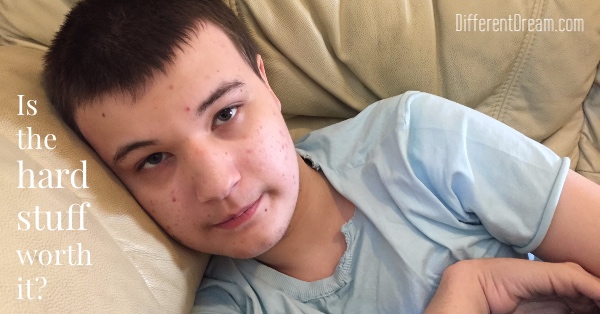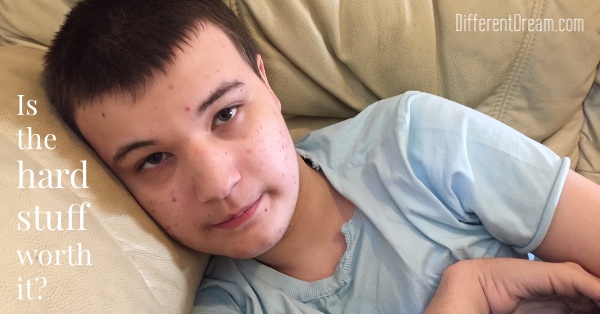 Is being a special needs parent worth it? Guest blogger Mark Arnold answers the question from his vantage point as parent to James, his son with significant special needs. Read on to see what this 17 year veteran caregiver has to say.
Is Being a Special Needs Parent Worth It?
This question lurks in the heart of every special needs parent. We keep it down, out of sight. But every now and then when we are tired beyond our ability to cope, knocked down by bad news, clearing up something we hoped to never see again, the question sneaks out of hiding and yells, "Is being a special needs parent worth it?"
Perhaps never before has humanity lived in such a self-centered, self-obsessed, self-serving, narcissistic society as we do now. Advertising is filled with slogans such as "Because you're worth it!" and "It's all about you!"
What does any of this have to do with parenting children with special needs?
Well, parenting is life changing. It alters everything. The focus of our lives becomes less about ourselves and more about the child we've brought into the world. The level of care required, the sacrifices that need to be made, the time invested, and increases exponentially.
Our son James is 17. His special needs require a level of care that would be typical for a 3-year-old. He cannot be left unsupervised, has no real sense of danger, and requires a high level of personal care. A great deal of juggling is required to get through each day. In our world the self-centered, self-obsessed advertising is irritating white noise; irrelevant and without a place in our situation. Our focus simply cannot be on ourselves. It has to be on our children, particularly James as his needs are so much greater.
However we wouldn't have it any other way.
Jesus' message of selflessness, putting others first, serving others, loving others, is also counter-cultural in today's society. As Matthew puts it in his gospel, "Be like the Son of Man. He did not come to be served. Instead, he came to serve others. He came to give his life as the price for setting many people free." Matthew 20:28 (NIV)
Serving our child, loving our child, self-sacrifice for the benefit of our child–Jesus is the model we follow as special needs parents. The narrative of Jesus is more relevant, more inspirational, more aspirational, and more needed than the cultural obsession with self that surrounds us.
What about you? Where do you see yourself in this? Are you on the same journey?
Whatever your context, the counter-cultural message of Jesus shines through. Put your children before yourself, love your children for who they are, be self-sacrificing, serve their needs.
Let's continue to be counter-cultural, revolutionary, rejecting the narcissistic, selfish, self-obsessed, self-serving culture that society would have us embrace.
Let's be better people, the people we should be, the people we are called to be, loving each other, serving others not ourselves. Let that be the case for the children we care for, whether they are our own or not–because they are worth it!
Do you like what you see at DifferentDream.com? You can receive more great content by subscribing to the monthly Different Dream newsletter and signing up at the bottom of the page for the daily RSS feed delivered to your email inbox.