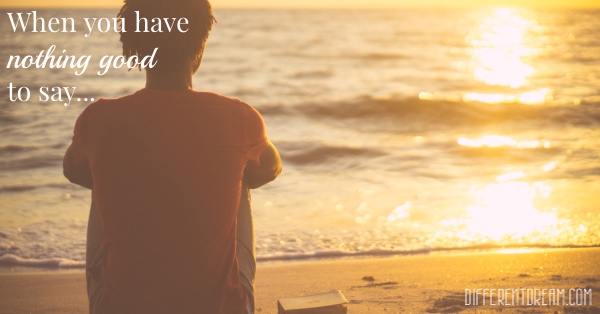 Whenever I got snarky as a kid, my mother had this habit of staring straight at me and saying, "If you don't have anything good to say, don't say anything at all."
Her words came to mind as I read the Exodus 14 account of Moses and the Israelites after they fled from Egypt and were trapped between the Red Sea and the Egyptian army. The Israelites were freaking out and blaming Moses, reviling him with snarky comments like these.
"Is it because there are no graves in Egypt that you have taken us away to die in the wilderness?"
"What have you done to us in bringing us out of Egypt?"
"Is not this what we said to you in Egypt: 'Leave us alone that we may serve the Egyptians.'"
"It would have been better for us to serve the Egyptians than to die in the wilderness." (ESV, Exodus 14: 11–12)
Do you know what my mother would have said if she'd been in Moses' sandals? Yup. You guessed it. She would have nailed them with an unsympathetic, "If you don't have anything good to say, don't say anything at all."
Moses' response in verses 13–14 was a little different. "Fear not, stand firm, and see the salvation of the LORD, which He will work for you today. For the Egyptians whom you see today, you shall never see again. The LORD will fight for you, and you have only to be silent."
To read the rest of this post visit the Irresistable Church blog at Joni & Friends.
Do you like what you see at DifferentDream.com? You can receive more great content by subscribing to the quarterly Different Dream newsletter and signing up for the daily RSS feed delivered to your email inbox. You can sign up for the first in the pop up box and the second at the bottom of this page.