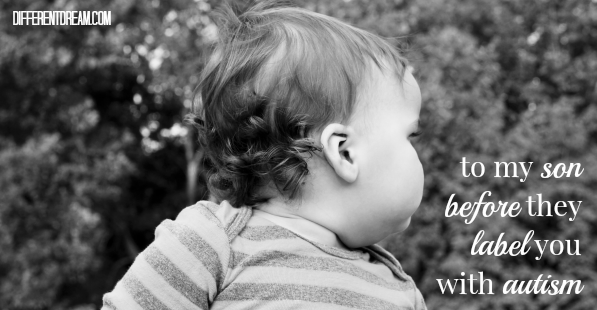 Before they label you with autism. No parent wants to pen a letter to a child before that happens. But this post is an example for parents of what to say and how to say it. Thank you, guest blogger Amy Felix, for saying what many parents need to hear.
My Son,
The doctors tell me that you have autism. That, though you're not quite old enough for them to make an official diagnosis, all of the signs are there. Soon, the world will label you. Many will see you through the lens of disability. Life will change. Before it does, I wanted to write to you. To tell you what I see in you. To tell you what will remain the same…
You're strong, brilliant, and hand-crafted in the image of God. Look no further than His Word for the truth of who you are. No label can define you. Never let anyone convince you you're anything less than priceless.
I love you fiercely. Nothing can separate you from my love. Nothing. No words can express the depth of it. No label, diagnosis, or struggle could ever change it. My love for you is endless.
We are a team. Your battles are my battles. When you hurt, I hurt. When you struggle, I struggle. I will fight for what's best for you, fight for all that you deserve, until the day I die. I will push you to reach your goals and I will lead you in running this race with endurance. You may encounter many hardships, but you'll never face them alone.
God's purpose and plan for your life is bigger than you could ever imagine. Never let the world drag you down. Don't lose sight of your mission.
You are worthy of respect. People may not always give it to you; sometimes you'll need to work hard to earn it. You need to be respectful. God created that person who's tearing you down; because He loves them, you are called to as well. Don't be afraid to stand up for what you deserve, but choose your words carefully.
I'm proud of you. Not just because I'm your mother, but because I see your determination to achieve…because when you fall, as we all do, you always get back up and try again.
I believe in you. Always will. I'll be here to guide you in truth and compassion as you reach for your dreams and beyond. Never underestimate yourself. Through Christ, you can do all things. Even when you find yourself feeling lost, remember that God can use any situation for good.
You are a gift. I have never, not for a single moment, wanted a different child. I've never wanted to change you. I never will. You are exactly who you are meant to be and who you are is amazing. I am privileged and honored to be your mama.
Lastly, if I could give you anything, I'd give you the passion to live out 1 Corinthians 16:13-14. Be on guard. Stand firm in the faith. Be courageous. Be strong. And do everything with love.
By Your Side,
Mom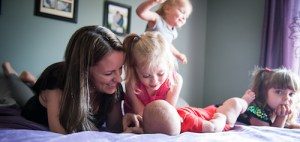 My name is Amy Felix. I've been married for 10 years to a guy who's totally out of my league. I'm a homeschooling mom to 4 kids, ranging in age from 9 to 2 years. That's really enough work on it's own but, because I love it, I'm a photographer as well. And, in my spare time, I write. My faith is the driving force behind my special needs blog: Appointed To Hope. I'm a firm believer in being real, transparent, and using the gifts of this journey as a way to relate to others in their joy as well as their sorrow. To read more about my adventures in special needs parenting, visit my website at www.appointedtohope.com.
Do you like what you see at DifferentDream.com? You can receive more great content by subscribing to the quarterly Different Dream newsletter and signing up for the daily RSS feed delivered to your email inbox. You can sign up for the first in the pop up box and the second at the bottom of this page.