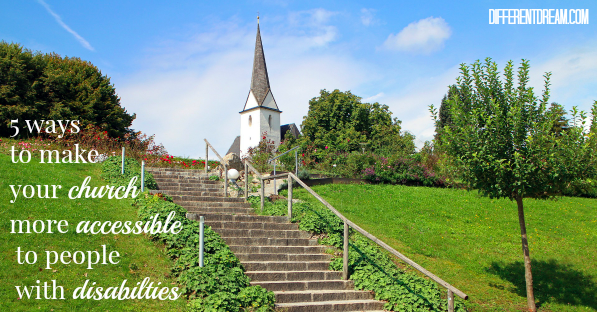 If your church wants to be more accessible to people with disabilities, there are several things that can be done immediately to jump start the process. Most of them take more time than money, but none of them require a huge time commitment. Here are 5 simple things I learned from watching Mom wheel Dad into church when I was a kid, from taking our son with special needs to church, from teaching kids with special needs, and from parents raising kids with disabilities. Each item in this list will make your church more accessible. The last one might motivate you to implement more inclusion efforts in your church and beyond.
#1: Improve Signage
From the parking lot to the foyer to the hallways, assess and upgrade signage as needed. Label the most accessible entrances as "quiet" or "family" entrances rather than "disabled" or "handicapped." Make sure your welcome center is clearly marked so newcomers see right away where to go for information. Have signs inside entrances that indicate how to get to the nursery, the children's programming wing, and so on.
#2: Train Greeters and Ushers
Train greeters to assess people as they arrive. Then they will know to direct families with babies and children to the nursery and children's programming wing. They know to point out accessible bathrooms and seating to people with mobility issues, escort those with visual or hearing impairment to accommodation devices, and so on. Ushers should also be trained in case someone slips past the greeters in a crowd, and for those who come after the greeters have left their posts.
To read the rest of this post, please visit the Irresistible Church blog at Joni & Friends.
Do you like what you see at DifferentDream.com? You can receive more great content by subscribing to the quarterly Different Dream newsletter and signing up for the daily RSS feed delivered to your email inbox. You can sign up for the first in the pop up box and the second at the bottom of this page.