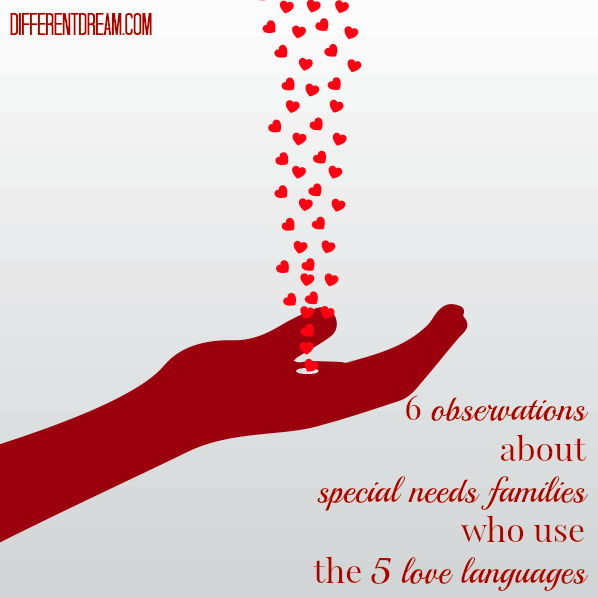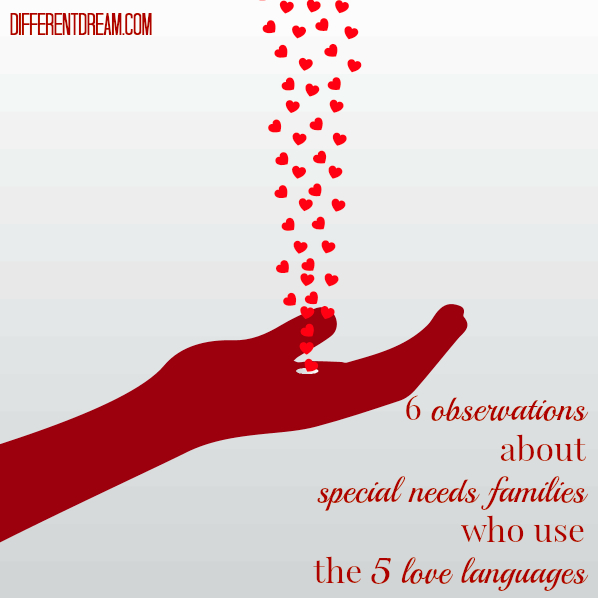 An update on the special needs love languages book is a fitting way to usher in February, the month known for romance and love. I want to share what's happening during interviews as  Dr. Gary Chapman and I collaborate on this special needs love languages book. Hopefully, these 6 observations about parents raising kids with special needs provide Different Dream readers with a glimpse at what's going on.
Interviewing families is fascinating. Since the new year, 13 families have graciously shared stories of how they use the 5 love languages with their spouses and with their children, both kids with special needs and those who are typically-developing. The stories they tell about how the 5 love languages help them fill their spouses and children's love tanks are an encouraging affirmation of the elegant simplicity and power of the love languages. I'm convinced that the 15 scheduled interviews yet to be completed will confirm this observation.
Parents of kids with special needs are keen observers. They know their children's love languages, even those of non-verbal kids, because they watch their kids behaviors with systematic intentionality. What these parents have described will help many other families determine their kids' love languages.
Parents speak the love languages to their kids with special needs in creative ways. Once they know their kids' languages, they devise innumerable ways to determine their children's love languages and to speak love to their kids. And they show their children's doctors, therapists and teachers how to connect with their kids, too.
Parents love their typical kids to the moon and back. They worry that their children without special needs don't get enough attention, that they become the unintentional sacrifice at the altar of special needs. Many of them feel that using the love languages to fill their typical kids' love tanks is the best way to remediate this circumstance. Many of them also say that their typical children have no fear of people with disabilities and special needs, but deep compassion for them.
Spouses have ingenious ways to speak love to one another. As a rule, parents of kids with special needs don't have much money or time. So during each interview, I ask parents to describe inexpensive and easy ways they've devised to speak their spouses' love language. Honestly, this is my favorite part of each interview because the ideas are so wonderful. I can't wait to share them in the book.
Special needs families are persistent. They don't give up. They know they may be the primary caregiver for their adults children as long as the parents are alive. So they are constantly looking for ways to better the lives of every member of their family by keeping one another's love tanks full.
Maybe you're reading this and thinking, Hmmm, maybe our family's story is of interest for this book! If so, here's a list of what we want to include in the completed special needs love languages book.
how to identify the love languages of children who are developmentally delayed and/or non-verbal
how spouses use the love languages with one another despite the constraints of caregiving
how siblings with and without special needs use the love languages with one another
how to educate extended family, therapists, teachers, and paid caregivers about a child's love languages
stories of how families use the 5 love languages in creative and meaningful ways
stories from children or adults with special needs about how they use the love languages
If your family's story could contribute in any of the above areas, please use the form below to contact me. I'll get back to you as soon as possible to schedule an interview!
Do you like what you see at DifferentDream.com? You can receive more great content by subscribing to the quarterly Different Dream newsletter and signing up for the daily RSS feed delivered to your email inbox. You can sign up for the first in the pop up box and the second at the bottom of this page.