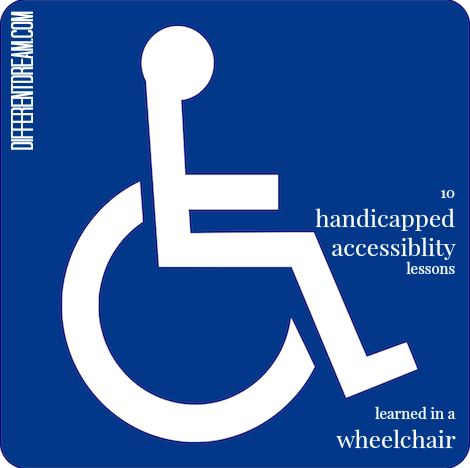 I've been in a wheelchair for six weeks now, compliments of the malicious purse strap that wrapped itself around my leg, causing me to fall and break my foot. The doctor issued strict non-weight bearing until the foot heals, which is taking longer than expected. Since the fall (and yes, I still use the purse), I've made the acquaintance of a pair of crutches and become good friends with a black boot and a wheelchair.
While the wheelchair has resulted in a slower paced life for the time being, I get out as often as possible. (Translation: whenever busy and thoughtful family members can serve as drivers.) These forays have allowed me to experience the challenges people in wheelchairs deal with day after day, from building to building, and from one encounter to another. It's been an eye-opening experience, and I'd like to share some observations with you today.
10 Lessons Learned in a Wheelchair
10.  Those signs near hotel elevators that say "In case of fire, use the stairs" are less than reassuring to people in wheelchairs assigned handicapped rooms located anywhere other than on the first floor.
9. Have you ever tried to open a heavy door while sitting in a wheelchair? If you have, you know that any bathroom that claims to be be "handicapped accessible" and doesn't have an automatic door is not truly handicapped accessible.
8. The pitches of many ramps are so steep that they inaccessible to people operating manual wheelchairs by themselves. So in reality, those "handicapped accessible" ramps force dependence upon people in manual wheelchairs.
7. Most handicapped bathroom stalls are too small for wheelchairs to turn around in so the stall door can be closed and locked. Therefore, they are "handicapped accessible" only for exhibitionists.
6. Flagstone walkways, while quaint and charming, are dangerous for anyone using crutches, a walker, or a wheelchair. Therefore, our flagstone sidewalk to the front door is being replaced with a mildly pitched cement ramp as soon as possible.
5. If the front of a wheelchair can't roll far enough under the sink in a "handicapped accessible" bathroom so a person can reach the faucet and soap, the bathroom is not handicapped accessible. It's a germ factory.
4. By the same token, if a person has to use wet hands to wheel to the hand dryer in a "handicapped accessible" bathroom, the bathroom is not handicapped accessible. It's gross.
3. When you're out and about in a wheelchair, half the people will ignore you, a third of the people will call you "hon"  or "honey" and try to do everything for you, and the rest will ask you what you need, listen carefully, and be truly helpful.
2. Most grab bars in "handicapped accessible" bathrooms aren't close enough to the toilet to be useful. Which once again means the bathroom is mislabeled.
1. Anyone who is temporarily confined to a wheelchair will likely become a disability advocate. They will also be grateful for those who go beyond the minimum "handicapped accessible" guidelines to make the world truly handicapped accessible to all.
Do you have mobility issues? What lessons have you learned in a wheelchair, a walker, or crutches? Share them in the comment box.
Save
Save