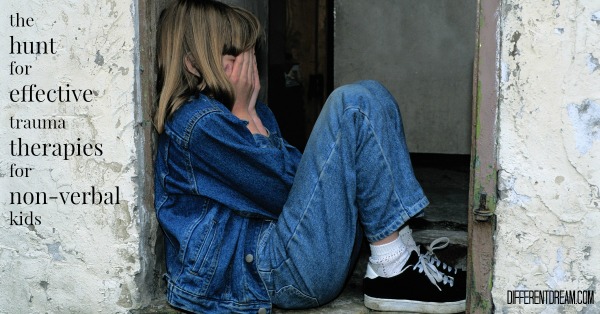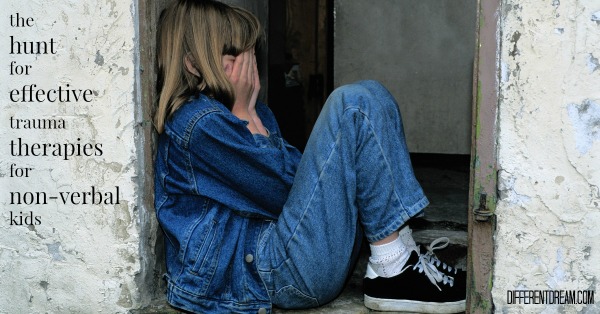 Effective trauma treatment for nonverbal children doesn't get talked about much (no pun intended), as I discovered recently during a Facebook group discussion.
A group member posed a question about trauma treatment for nonverbal children, and I passed it along to the group. Imagine my surprise when only one person had any suggestions. I reposted a question a week later in case anyone missed it the first time. A few parents said they hadn't responded earlier because their children were verbal. But nobody added anything new to the discussion.
Resources about Trauma Treatment for Nonverbal Children
Our combined lack of knowledge has niggled at me ever since. So I did a little research on the subject and am passing what I found on to you.
The resource mentioned in the Facebook group was about a therapy called neurological reorganization. Here's the website for Bette Lamont, the therapist who helped the Facebook member and her family. I'm not familiar with this treatment method and am not endorsing the therapy or therapist. Be sure to thoroughly research the method and therapists before pursuing either.
The National Child Traumatic Stress Network (NCTSN) has created a fact sheet about empirically supported treatments and promising practices they've developed and implemented. The NCTSN is a leader in the field and highly respected. The fact sheet page at their website lists several treatment methods that can be used with children from birth onward. Since babies are considered "nonverbal" from birth to age 3, my assumption is that those methods could be used with older nonverbal children, too.
Another resource that might be helpful is Bessel van der Kolk's amazing book The Body Keeps the Score. In it he clearly describes dozens of trauma treatment methods and their effectiveness. The information in the book provides many treatments parents can research and pursue on behalf of their children.
What Can You Add about Trauma Treatment Methods for Nonverbal Children?
If only I had more to pass along to you about trauma treatment methods for nonverbal children. I don't, but perhaps you do. Please share what you know in the comment box. Perhaps your information will help nonverbal, traumatized children get the therapy they need!
Do you like what you see at DifferentDream.com? You can receive more great content by subscribing to the quarterly Different Dream newsletter and signing up for the daily RSS feed delivered to your email inbox. You can sign up for the first in the pop up box and the second at the bottom of this page.
Save