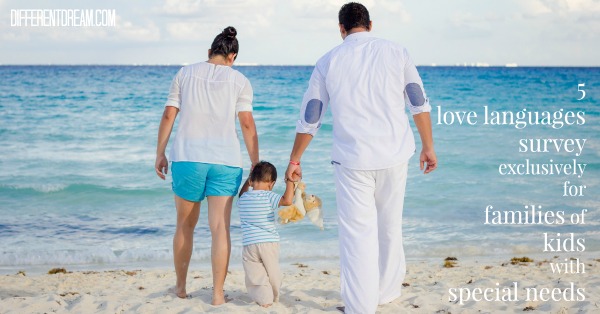 The five love languages books by Gary Chapman have helped countless couples and families strengthen relationships. Lately I've been thinking about ways to adapt and use the concepts presented in the five love languages books to support families raising kids with special needs.
My guess is that many Different Dream readers have used the five love languages with their spouses and their children with or without special needs. As parents raising children with special needs, you have experience and a knowledge base that could provide great benefit to the disability and special needs community. The short survey below is designed to tap into both your experience and expertise. If you have a few minutes, would you complete the survey? Be assured that your responses will not be available for public view and will be completely anonymous.
Create your own user feedback survey
Thanks so much for your help with this five love languages survey. Be watching for a future post about what was learned from the survey!
Do you like what you see at DifferentDream.com? You can receive more great content by subscribing to the quarterly Different Dream newsletter and signing up for the daily RSS feed delivered to your email inbox. You can sign up for the first in the pop up box and the second at the bottom of this page.
Save