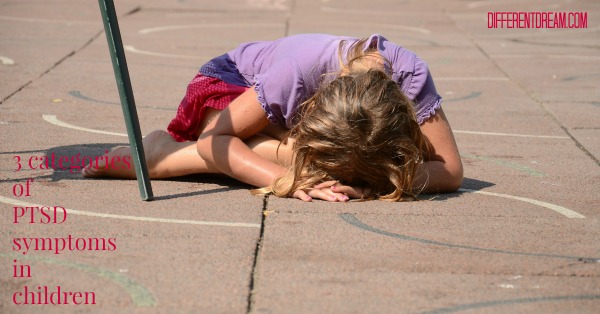 Recognition of childhood PTSD has been increasing in the past few years. But what symptoms of PTSD in children lead to a diagnosis? This month's video for Rising Above Ministries summarizes 3 categories of symptoms of PTSD in children. It also reviews symptoms prevalent in children in these age groups: birth to 3, 4 to 6, 7 to 12, and 13 to 18.
To read more about this subject, click on over to the Different Dream blog post, Childhood Symptoms of PTSD in Tots, Teens, and In Between. For even more information, check out Does My Child Have PTSD? which has a chapter devoted to the topic.
For the rest of the RAM videos in this series, check out these links:
Episode 1: Special Needs Parenting Is Different Dream Living
Episode 2: Childhood Trauma by any Other Name Is Still Traumatic
Episode 3: Myths about PTSD in Children, Part 1
Episode 4: Myths about PTSD in Children, Part 2
Episode 5: The Surprising Causes of PTSD in Children
Episode 6: 7 Ways the Brain Responds to Traumatic Events
Do you like what you see at DifferentDream.com? You can receive more great content by subscribing to the quarterly Different Dream newsletter and signing up for the daily RSS feed delivered to your email inbox. You can sign up for the first in the pop up box and the second at the bottom of this page.
Save
Save