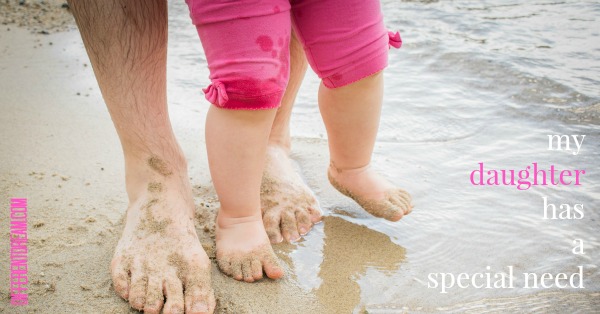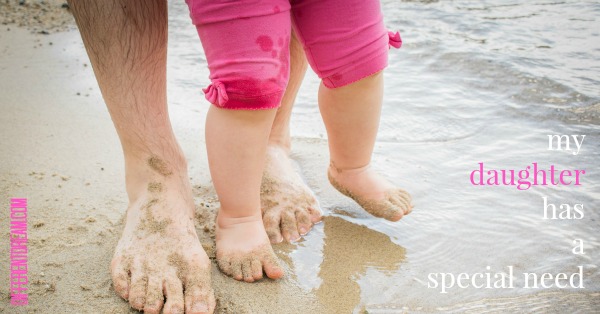 Guest blogger Kimberly Drew and her husband are adopting a child with special needs. This baby girl will be their second child who lives with disabilities. Today Kimberly shares what she's learned about what kids with special needs truly need.
Adopting a Child with Special Needs
My husband and I are in the middle of the process of adopting a child with special needs, baby girl, from an extended family member. Because our daughter, Abbey, is thirteen and has multiple disabilities we are aware that to some people this pretty much sounds insane. We've even had close friends question our decision.
The truth is, we've been talking about adoption for years. We've prayed about it many times. When this need came up, we just knew God was asking us to step out in faith. I blog and write all the time about how much raising Abbey has changed my life for the better. It is by far the most difficult, and occasionally painful, journey I have ever been on. At the same time, it's a beautiful and rewarding one too.
I started thinking about what it really means to have a child with special needs. I often define that by Abbey's limitations and what we have to do in order to care for her. But as I was lying in bed and thinking about how to respond to those people how aren't on the "I support you, I believe in you" bandwagon it occurred to me.
Yes. I am going to have two daughters with special needs. While I don't know exactly what that's going to look like, I know what I have learned so far about having a daughter with special needs.
My daughter has a SPECIAL NEED to be loved.
She requires extra hugs, kisses, and post-appointment cuddles. She can't leave for school or home without hugging and signing, "I love you" multiple times to every person.
My daughter has a SPECIAL NEED to try new things.
We vacation differently and seek out new spots and activities that are friendly to her physical needs. We join different sports groups like therapeutic riding and have been wanting to try a local dance classes for the disabled. We even try new foods for her when we are ordering at a restaurant based on their consistency!
My daughter has a SPECIAL NEED to have amazing people in her life.
She attracts compassion and kindness. We have made some amazing relationships because it takes a special kind of person to befriend our family…people who "get it" and love us through the variables and chaos. They even tell us they are the ones who are blessed…
My daughter has a SPECIAL NEED to be a child.
She is not your typical teen. She still loves baby dolls and coloring. She laughs at silly things, and still pretends. You can keep your teen daughter's iphone and sass…I will take a Bitty Baby and pack of crayons over those every time! I can't wait to take her to Disney World for the first time…we will probably get to cut every line. Ha ha!
My daughter has a SPECIAL NEED to live life in light of eternity.
Every day is a gift. Every day is a reminder that this world is not our home, and the brokenness of this life is redeemed through the cross. We live with a truer hope, peace, and joy because what she has taught us about the love of God.
Yes, I'm going to have two daughters with special needs. Lucky me.
Any Advice for Kimberly about Adopting a Child with Special Needs?
Have you adopted a child with special needs or do you know someone who has? Share your advice with Kimberly if you like.
Do you like what you see at DifferentDream.com? You can receive more great content by subscribing to the quarterly Different Dream newsletter and signing up for the daily RSS feed delivered to your email inbox. You can sign up for the first in the pop up box and the second at the bottom of this page.
Save