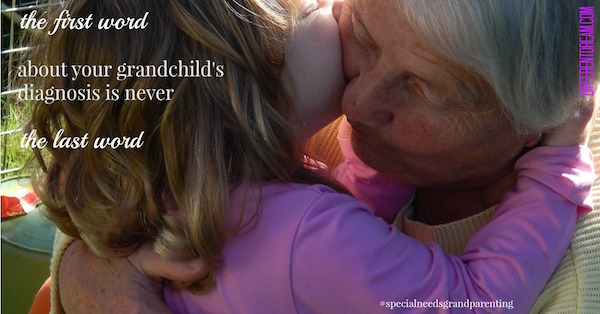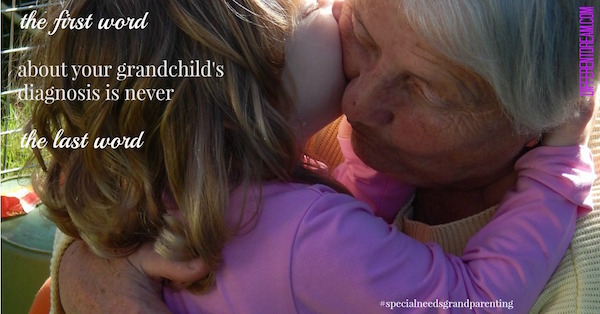 Thanks for stopping by DifferentDream.com for the next installment of our series about special needs grandparenting. Guest blogger Kimberly Drew is here to share some lessons her mother has learned as grandparent to Abbey, Kimberly's daughter with special needs.
Special Needs Grandparenting:
The First Word Is Never the Last Word
A year or so ago, I asked my mom to answer some questions as if she was sitting across the room having coffee or tea with another grandmother who just found out their grandchild was disabled. I wanted to share with you some highlights of that conversation. If you are a grandparent in this situation, I hope you are encouraged.
Special Needs Grandparenting Fears
My mom shared that she had grown up with a deaf sister. Therefore, she wasn't so fearful of Abbey's hearing loss because there was a close association with memories of her sister. Rather, her fears were for Abbey's mind and physical abilities. She says, "It continues to evolve as a new normal for Abbey and our family. I was especially glad our prayers were answered that Abbey can walk."
Having had many conversations with my mom about Abbey's disabilities, she wants you to know that . Miracles happen every day, and my mom still prays for that after thirteen years. I need her realistic understanding of what we are going through, but I also need her hope that it won't be as scary as we think it might be.
Special Needs Grandparenting Lessons
When we talked about what some of the hardest things have been are, she said, "Seeing other girls without disabilities sometimes makes me feel sad for Abbey. On the other hand, when you see a four-year-old girl throwing an absolute fit in a store over not getting their way and your disabled four year old granddaughter is happily strolling through the store, you are in that moment, somewhat thankful she is not the other girl." My mom has commented many times on how happy Abbey is, and how glad she is that Abbey won't suffer great heartbreak or loss like the rest of the world.
Special Needs Grandparenting Blessings
There are other unexpected blessings that come with having a disabled grandchild. My mom especially said that she would want to tell you to appreciate the strong family and extended family bond that a child's disability can bring.
She has also learned how to be a better friend. She shares, "My friend Barbara chose to come to me when she found out her grandson was born with Down syndrome. She sobbed on my shoulder and said no one would understand like I would. And after a good cry we celebrated his life and his new normal. Three years later she is filled with joy when she talks about him." I know she would encourage you to find a friend who can understand what your family is going through, and to be a friend when someone gets a new diagnosis. Her bond with Barb has deepened as they share this journey together.
Special Needs Grandparenting Advice
Last, I asked her what advice she would give to me. I was really touched by her words. She was very adamant, "You are my child…I celebrate your joys and share your sorrows. Share your joys with me and don't spare me your sorrows."
Be sure to communicate this to your own adult children. I know it will mean the world to them, because it did to me.
Your Special Needs Parenting Experience?
What's your experience as the grandparent of a child with special needs? What have you learned from your parents as they interact with your child who has special needs? Share them in the comment box.
Part One: Different Dream's Special Needs Grandparenting Series Begins
Part Two: Special Needs Grandparenting 101
Part Three: Special Needs Grandparenting–The First Word Is Never the Last Word
Part Four: The Special Needs Grandparenting Tug of War
Part Five: Special Needs Grandparents Are Part of the Village
Part Six: What's It Like to Be a Special Needs Grandparent?
Do you like what you see at DifferentDream.com? You can receive more great content by subscribing to the quarterly Different Dream newsletter and signing up for the daily RSS feed delivered to your email inbox. You can sign up for the first in the pop up box and the second at the bottom of this page.