With this first Friday in February, we're serving up a new episode in the Different Dream vlog series for parents of kids with special needs. Today's devotional relates a favorite story from the weeks our son spent in NICU back in 1982. My husband and I still giggle whenever we tell it. As you may have guessed, it comes from the hospital section of  A Different Dream for My Child: Meditations for Parents of Critically or Chronically Ill Children.
The devotional is called "The Shirt Off Her Back." Though we never saw the woman and her son after we checked out of their boarding house, they feel like part of the family. Whenever they come to mind, I whisper a prayer of thanks to the God who used them to give us a glimpse of Christ when we needed it most.
[youtube]http://youtu.be/noXcU9OjQko[/youtube]
Knowing how great our God is, I am sure He used strange circumstances during your child's hospital stay to open your eyes to His presence. You're invited to tell your story in the comment box.
How To Listen to More Different Dream Vlog Series Episodes
If you'd like to listen to more devos, type "Different Dream vlog series" in the search box at the top of the page to find other episodes. Or to have future episodes sent directly to your email inbox, you can subscribe to the Different Dream RSS feed by typing your email address in the box in the right hand column near the top of this page.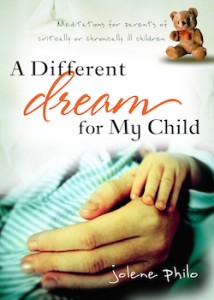 As has been mentioned before, copyright restrictions allow the publication of a maximum of 10 vlog posts at a time. This post is #10, so next week the first vlog post in the series will disappear when #11 goes up. But until then, listen, enjoy and pass the link onto your friends. You can also order the print version of A Different Dream for My Child through Amazon or at your local book store.
Do you like what you see at DifferentDream.com? You can receive more great content by subscribing to the quarterly Different Dream newsletter and signing up for the daily RSS feed delivered to your email inbox. You can sign up for the first in the pop up box and the second at the bottom of this page.