Welcome back to the Different Dream vlog series. Thanks for being patient for the past three months while the Caregiver's Notebook How To vlog series ran in it's place. With that series completed, you can once again sit back, close your eyes, and listen to someone read to you. Today's post is from the hospital section of A Different Dream for My Child. Find a Doctor You Can Hug is all about seeing the hospital through the eyes of a child…and as the title suggests, how to find a doctor you can hug.
[youtube]http://youtu.be/Z9vRVZTkY1o[/youtube]
Now, I'm more than a little curious about how you made the hospital less foreign for your child. Leave a comment about how you did it or give a shout out about how you found a doctor your child could hug.
To listen to more devos, type "Different Dream vlog series" in the search box at the top of the page to find other episodes. Or to have future episodes sent directly to your email inbox, you can subscribe to the Different Dream RSS feed by typing your email address in the box in the right hand column near the top of this page.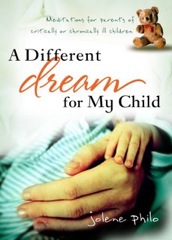 As has been mentioned before, copyright restrictions allow the publication of a maximum of 10 vlog posts at a time. So at the end of ten weeks, this post will disappear and another will take it's place. But until then, listen, enjoy and pass the link onto your friends. You can also order the print version of A Different Dream for My Child through Amazon or at your local book store.
Do you like what you see at DifferentDream.com? You can receive more great content by subscribing to the quarterly Different Dream newsletter and signing up for the daily RSS feed delivered to your email inbox. You can sign up for the first in the pop up box and the second at the bottom of this page.