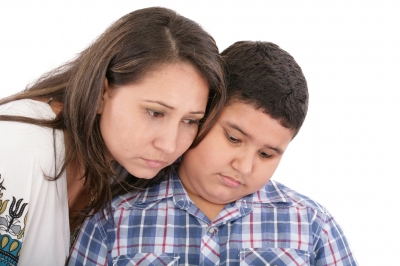 Childhood depression is a real and growing concern in modern culture. As parents, we sometimes ignore signs of depression in our kids because we don't want to believe mental illness can affect them. But rates of childhood depression in our country are growing, and we must not ignore the trend.
Childhood Depression Hits Younger
Not only are more children being diagnosed with depression, they are being diagnosed at younger ages than ever before. In a blog post at her website, Dr. Michele Borba, author and educational psychologist, cited an article in the Journal of the Association for Psychological Science, Current Directions in Psychological Science . In the article, child psychiatrist and researcher, Joan Luby from Washington University in St. Louis reports recent findings about depression in young children. Luby said that "depression in children as young as three years of age is real and not just a passing grumpy mood."
How to Recognize Childhood Depression
The remainder of Dr. Borba's blog post describes symptoms of depression at different stages of childhood. Here are some highlights.
Depression in a Preschooler
Loss of pleasure in play
Frequent stomachaches, headaches, and fatigue
Excessive restlessness
Low tolerance for frustration
Frequent sadness
Depression in a School Age Child
Sleep pattern changes
Excessive weight loss or gain
Excessive worrying
Unprovoked hostility or aggression
Refusal or reluctance to attend school
Loss of interest in playing with peers
Depression in Adolescents
Sleeping longer
Abusing drugs, alcohol or smoking
Conduct problems in school
Loss of enjoyment of previously enjoyable activities
Self-destructive behavior
Doesn't attend to appearance
Morbid or suicidal thoughts
Borba advises using the "too index" to decide when parents should seek professional help. That index and other signs of depression in kids can be found in Borba's blog post, Childhood Depression: Signs in Preschoolers, Kids & Teens.
Childhood Depression and You?
Has a child at your house been diagnosed with depression? What symptoms did you see? When did you decide to get help? Leave a comment to raise awareness so children can receive early and effective treatment for this illness.
photo credit: freedigitalphotos.net
Do you like what you see at DifferentDream.com? You can receive more great content by subscribing to the quarterly Different Dream newsletter and signing up for the daily RSS feed delivered to your email inbox. You can sign up for the first in the pop up box and the second at the bottom of this page.