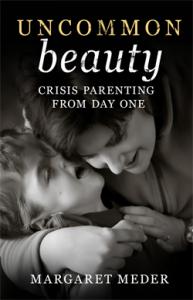 Medically fragile children need parents with a unique set of skills. Because these skills aren't taught in parenting classes or addressed in parenting books, dads and moms with children who have critical medical needs are forced to scramble to find resources while they're still coming to terms with an unexpected diagnosis. My book, Different Dream Parenting, has several chapters about parenting kids with medical special needs, but a new book by Margaret Meder deals exclusively with this subset of medically fragile special needs children.
Meet Margaret Meder
Margaret Meder and her husband Randy are parents to Jonathan and Evan. Evan, their second child, was diagnosed with Apert syndrome shortly after his birth in June of 2004. Their newborn spent 4 weeks in NICU and was hospitalized numerous other times because of respiratory issues and corrective surgeries. Margaret looked for books to help her family on their parenting journey, but found none. Once her son's health stabilized several years later, she wrote a book to share what she learned with other families in similar situations.
Check Out Margaret's Book
Margaret's book about parenting kids who are medically fragile is called Uncommon Beauty: Crisis Parenting from Day One. It contains over 100 tips covering diverse topics such as dealing with insurance companies, setting up a schedule, advocating for your child, and staying positive. Each tip includes current information and an excerpt from Meder's journal when Evan was very young. The juxtaposition of past and present shows Margaret's initial identification of new problems and how she found solutions.
Her advice provides practical examples, as one about how to prepare for the arrival of paramedics and an ambulance shows. Meder suggests creating a vital information sheet – long before a crisis, of course. A five bullet point list outlines what the sheet should contain. On the same page, Meder explains what to pack in an emergency visit backpack and how to tailor the contents to your child's specific medical condition.
Advice About Medically Fragile Children
Meder's book is a valuable resource to parents of kids who are medically fragile, and I recommend it. You might also like to visit her website, www.uncommonbeautycrisisparenting.com. But before you go visit Margaret's site, perhaps you would like to share a tip or two you've discovered as the parent of a child who is medically fragile. If so, leave a comment below.
Do you like what you see at DifferentDream.com? You can receive more great content by subscribing to the quarterly Different Dream newsletter and signing up for the daily RSS feed delivered to your email inbox. You can sign up for the first in the pop up box and the second at the bottom of this page.