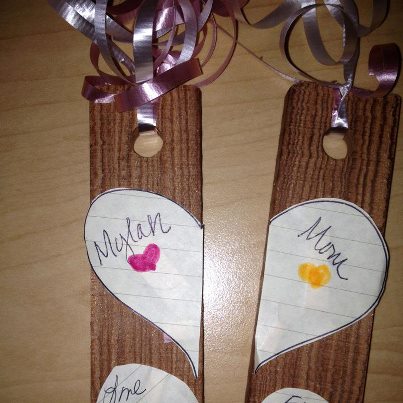 Redwood, summer camp, and love notes don't have anything in common. Unless you're guest blogger and carpenter Scott Newport. Today, he shares the story of how he used salvaged redwood to stay close to his son Noah, who was at summer camp, and how he's expanding the idea to help families dealing with hospitalized children or the death of a child.
Summer Camp
Scott Newport
I guess Penni must have picked up on some wisdom from other camp moms when she announced her idea of hiding a little love note between Noah's underwear and his new swim trunks. Noah was nine years old and this would be his first, week-long camp experience. Not wanting to be out-parented, I also put an envelope in Noah's suitcase. I just jammed my envelope toward the bottom.
The Envelope
All week I worried if Noah would be homesick and waited for the phone to ring. Friday was here before I knew it. Noah walked into the house and you could tell he had a good time. Story after story broke from his lips and then I interrupted. "Did you open the envelope?"
"Yea dad," he replied.
Wondering, I asked, "Well, what did you think?"
"I held it every night before I went to sleep."
This past week Linda the social worker from Walk With Me called. She asked if I could stop by and see a family at our local hospital. You see, Walk With Me is a pediatric hospice and palliative program and I am a graduate. Our son, Evan died a couple of years back; I now have a strong passion to help other families on their journey.
The Redwood
Before I went to see them I wondered what I would say. While working in my wood shop I remembered the story about Noah and the envelope. I soon found myself taking some old redwood I reclaimed from a deck on Lake Michigan and cutting it up into small pieces about the size of a harmonica. I then split each of those pieces in half creating a mirror image of the other. In woodworking we call that, "book matched," a technique often used when making fine violins or the interiors of a Rolls Royce.
So when Noah opened his envelope there was no note but a small piece of redwood with all of the names of the other members of our family engraved there: mom, dad, Chelsea, and Evan. On the mirrored piece I kept, I had the name Noah written on it.
You see, I hoped when Noah opened his note from me he would be reminded of his family. My plan worked. While he was holding onto his each night, I was holding on to mine and then laying it on my bed stand while I slept.
Redwood Transformed
During my visit with the family I told them about the wood and gave them a sample asking if they had any ideas how this could help families especially if a parent had to leave their child. While the dad and I talked the mom was standing at the nurses' work desk. Within about fifteen minutes she had asked for ribbon, a pair of scissors, and some markers. Luckily I had come prepared.
When she was done she showed me. When she put both pieces together like pages from a book her creation was an assembled heart. Each stick had its own inscription. One side said, "Love ties us together," and the other "Even when we're apart."
I just loved what she had done. I told her to keep it and to send me a picture. I'm hoping this may be a new way to help families who are on the journey of having a child with a life-limiting disease.
Redwood Remembrance
And if you're wondering, Evan had a piece of redwood too with all our family names on it. My half is still on my bed stand and Evan's was buried, neatly nestled in his folded hands.
What Do You Think?
Scott's story gives me goosebumps. I keep thinking of how his redwood idea could minister to so many parents of kids with special needs. How about you? What's your reaction to his story? How would you like to see the idea used? Leave a comment.
Do you like what you see at DifferentDream.com? You can receive more great content by subscribing to the quarterly Different Dream newsletter and signing up for the daily RSS feed delivered to your email inbox. You can sign up for the first in the pop up box and the second at the bottom of this page.