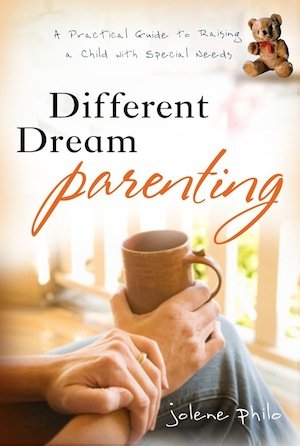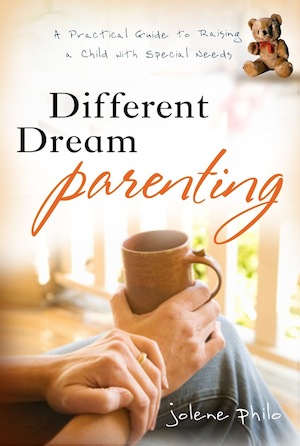 Yep, you read it right. Finally, finally, finally, the print version of Different Dream Parenting: A Practical Guide to Raising a Child with Special Needs is available at your local bookstore.
How To Find Different Dream Parenting
If your local book store isn't carrying DDP yet, ask them to order it. Just tell them it's distributed by Barbour, and they should be able to find it.
If you can't get to the book store because you're busy caring for a child with special needs, it can also be ordered from these websites:
Discovery House Publishers
Amazon
CBD
Barnes and Noble
It's probably at some other websites, too, but those will get you started.
What's In Different Dream Parenting?
The book has 24 chapters, 4 appendices, 6 prayer guides, and an index. The chapters are divided into the following 6 sections:
Diagnosis: From Ambushed to Advocate
Hospital Life: From Confused to Confident
Juggling Two Worlds: From Chaos to Calm
Long-term Care Conditions: From Trepidation to Triumph
Losing a Child: From Loss to Comfort
Raising a Survivor: From Fragile to Fearless
Each section has four chapters. The first 3 chapters in each section address the practical concerns that populate life for parents of kids with special needs. The last chapter in each section tackles some of the spiritual issues parents face.
What's Jolene's Favorite Part of the Book?
My favorite part is the dedication:
To my father, who lived joyfully
and with dignity in the face of disability,
and to my mother, whose love for Dad never flagged
during thirty-eight years as his caregiver.
I've been waiting a long time to honor Dad and Mom. Doing so feels grand, even though Dad is no longer living and Mom has early stage Alzheimer's.
How About the Author's Favorite Review?
My favorite review, which is only one word long, also involves Mom. First, you should know that she taught elementary school for 38 years. That explains this feedback after reading A Different Dream for My Child in 2009:
"I didn't find any mistakes."
A few weeks ago, Mom read Different Dream Parenting in one day. When she finished, I asked, "What did you think?" hoping she would mention the dedication, yet realizing the Alzheimer's was fogging her memory. All Mom said was, "It was nice."
"Did you find any mistakes?" I asked.
"No."
Pretty rousing review, don't you agree?
How About You?
If you've read the new book and would like to express your thoughts, would you do me a favor? Go to the Amazon page for Different Dream Parenting, scroll to the bottom of the review section, and click on the "write your own review" button and have at it. While you're at it, those of you who've also read A Different Dream for My Child can write a review about it at its Amazon page.  Positive reader reviews (usually a tad longer than Mom's one word masterpiece and slightly more informative) are what convince potential buyers to actually purchase a book.
There's no way I can reach every parent of kids with special needs on my own. With your help, maybe we can reach them together. Thanks, in advance, for taking the time to write an Amazon review.
Do you like what you see at DifferentDream.com? You can receive more great content by subscribing to the quarterly Different Dream newsletter and signing up for the daily RSS feed delivered to your email inbox. You can sign up for the first in the pop up box and the second at the bottom of this page.