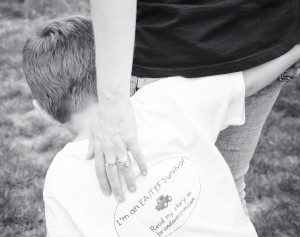 With the arrival of January 2011, the first ever EA TEF Awareness Month began. (To get the scoop on that alphabet soup, check out last week's post.) In today's post Lori McGahan, the founder of EA TEF Awareness Month explains how it came into being.
Meet Lori and Brandon McGahan
My name is Lori and I am a mom of an EA/TEF child. My son, Brandon, was born in 2007 and diagnosed day 2 of his life with Type C long gap EA/TEF with a distal fistula, severe tracheomalacia, heart defect, kidney reflux, as well as complications which occurred during treatment of this birth defect.
During our journey, we found it to be a very lonely journey as well as felt there was such a lack of information.  We were always compelled to ask the following questions with no definitive answers:
Why is there not more information and/or resources pertaining to EA/TEF?
Where are the support groups for us and where are the other EA families we can be connected with?
Why It's Hard to Connect EA TEF Families
We learned during our journey that there is not a lot of information regarding EA/TEF as it is a rare birth defect and can come in many different variations. We also learned, that it was extremely hard to be connected with other families via the hospital and or other facilities as they are grounded by HIPAA guidelines. HIPAA essentially means that hospitals are NOT allowed to give out family names and/or diagnosis, therefore, their ability to connect EA families together is impossible.
Brandon's Run
In October of 2007, we started Brandon's Run to raise awareness and to raise funds for research pertaining to this birth defect.  Our hope was that we would also find a way to connect with other EA Families. While our efforts to raise funds were good, by 2009 we still had not met any other families with an EA diagnosis. Due to this aspect, I spent a lot of time researching on the internet, found a wonderful EA support group on Facebook to connect with.
Bridging the Gap of EA TEF
In collaboration with other EA families, results from my surveys and with help from the EA Treatment Program at Children's Hospital Boston, the Bridging the Gap of EA/TEF Facebook page was born.  It is also due to this that when we held our 4th Annual Brandon s Run in September of 2010, we were able to connect with other EA families and meet these families face to face.  This was an overwhelming joy for us, as prior to that we had never met and/or spoken to another EA family.
What We Have in Common
It amazes me how in the past year, BTG has grown so much and with the help of other EA families we have been able to initiate the first annual Worldwide Esophageal Atresia and Tracheoesophageal Fistula Awareness Month currently being held.  It is my sincere hope, that Bridging the Gap of EA/TEF will help better connect EA families with resources and face-to-face support within their states that we all so much need. While all of our journey's vary just a bit, we all have one common theme, a child born with EA/TEF.
Leave a Comment
If you're the parent of a child with EA/TEF or an adult who had EA/TEF repair, please leave a comment. Lori would love to hear your story, and so would I.
Do you like what you see at DifferentDream.com? You can receive more great content by subscribing to the quarterly Different Dream newsletter and signing up for the daily RSS feed delivered to your email inbox. You can sign up for the first in the pop up box and the second at the bottom of this page.
Save