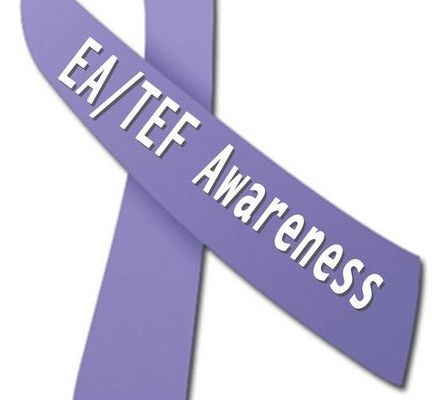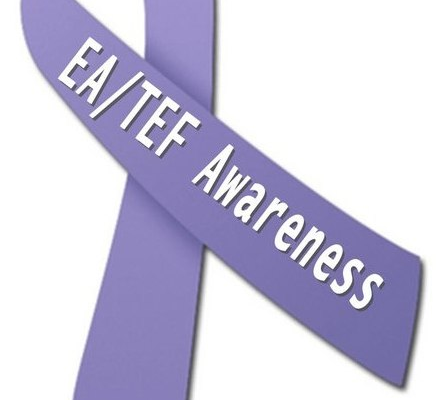 January is an important month, not only because it's the start of a new year. But also, because it is EA/TEF Awareness Month. If you're not familiar with that jumble of alphabet soup, this article by the folks at www.bridgingthegapofea-tef.com will satisfy your curiosity.
Why is EA/TEF Awareness Month important to me? Our son was born with the condition almost 28 years ago, and it changed our lives!
Facts about EA/TEF (OA/TOF)
In long form is called Esophageal Atresia and Tracheoesophageal Fistula.
Is an abnormal or non-existent connection between the esophagus and the stomach.
About 1 in every 3,000 to 5,000 infants is born with one or both of these conditions in the United States each year.  WORLDWIDE:  It is suspected the occurrence is roughly 1/4,000 live births since there has not yet been any genetic or environmental factor found to date.
Diagnosing EA/TEF
In most case EA/TEF is not prenatally diagnosed.  OB/GYNS can determine diagnosis by the following:
No or small stomach/no stomach bubble
High levels of amniotic fluid
Linked to vessel cords (2  vessel cords)
Links to Other Birth Defects
Up to one-half of all babies with TE fistula or Esophageal Atresia (TOF) have another birth defect.
Trisomy 13, 18, or 21
other digestive tract problems (such as diaphragmatic hernia, duodenal atresia, or imperforate anus)
heart problems (such as ventricular septal defect, tetralogy of Fallot, or patent ductus arteriosus)
kidney and urinary tract problems (such as horseshoe or polycystic kidney, absent kidney, or hypospadias)
muscular or skeletal problems
VACTERL syndrome (which involves Vertebral, Anal, Cardiac, TE fistula, Renal, and Limb abnormalities)
About one-half of children who had esophageal atresia (TOF) repaired will have problems with GERD.
*Statistics Source:   Children's Hospital Boston
We Need your Help!
Help us to raise awareness regarding this rare birth defect.  To learn how you can help visit the Bridging the Gap website.
Brief background of the Periwinkle Ribbon
The Periwinkle Awareness Ribbon is used to represent a number of health conditions and social issues.  Why Periwinkle?   Periwinkle signifies esophageal cancer and GERD, two items our children are at risk for; the white signifies the innocence of our children and young adults.
What's Your Experience with EA/TEF?
If your family or someone you know has been affected by EA/TEF, share the story in the comment box. And be watching for more information about EA/TEF throughout the month of January.
Do you like what you see at DifferentDream.com? You can receive more great content by subscribing to the quarterly Different Dream newsletter and signing up for the daily RSS feed delivered to your email inbox. You can sign up for the first in the pop up box and the second at the bottom of this page.
Save