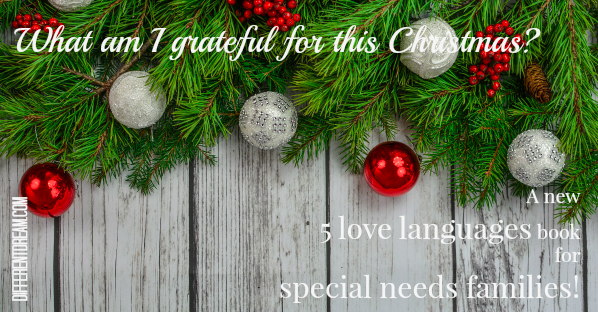 This Christmas, I'm happy to announce that the 5 love languages for special needs projects is actually happening. That's right, Dr. Gary Chapman and I have signed a contract to co-write Keeping Love Alive in Special Needs Families. That's the working title though it will probably change. My excitement was recorded in this live Facebook video book contract signing.
The initial excitement will gradually being replaced by the reality of what needs to happen before the final manuscript is due on January 15, 2019: interviews with families, consulting with Dr. Chapman (a sentence I never in my wildest dreams expected to type) writing a rough draft, rewriting, edits, page proofs, and more.
But now is a time for reveling in God's goodness in paving the way for a book we envision to be a tool that fosters better communication between all the members in special needs families: parents, kids with special needs, and typical siblings. This is also a time for soliciting assistance from pioneers who have used or are using the 5 love languages for special needs families:
how to identify the love languages of children who are developmentally delayed and/or non-verbal
how spouses use the love languages with one another despite the constraints of caregiving
how siblings with and without special needs use the love languages with one another
how to educate extended family, therapists, teachers, and paid caregivers about a child's love languages
stories of how families use the 5 love languages in creative and meaningful ways
stories from children or adults with special needs about how they use the love languages
If you believe you or someone you know has something to contribute to the book, please leave a comment below or use the contact page to send a private email. I promise to get back to you after Thanksgiving. Until then, I'll be relishing the goodness of God and what is yet to come.
Do you like what you see at DifferentDream.com? You can receive more great content by subscribing to the quarterly Different Dream newsletter and signing up for the daily RSS feed delivered to your email inbox. You can sign up for the first in the pop up box and the second at the bottom of this page.