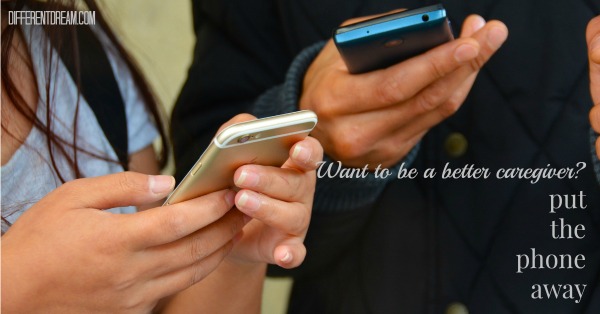 A recent moment of clarity showed guest blogger Kimberly Drew how to be a better caregiver. Her revelation may not be quite what you expect, but it could make you a better caregiver, too.
Once in a great while, I have moments of mental clarity. The haze of information overload and technical jargon dissipates, and I feel like my soul can breathe. This happened recently when my husband and I took an afternoon hike. Except for a photo at the top of the hill, we didn't look at our cell phones.
It was wonderful.
However, when we were done, my smart phone had notifications of trivial things that "needed" my immediate attention. The phone puts me at the constant disposal of anyone and everyone.
What can be a tool to enhance life can also be an iron shackle.
This last year, my social media account exploded with hatred from all sides. A Huffington Post article written by an opposing worldview left me shaking and teary and sleepless. Events are added on Facebook and if you don't RSVP, you're considered rude. Then there is the problem of looking fake or shallow if you put up too many smiling photos or cheerful status updates.
This is insanity.
Social media is like an online scrapbook of your life. There is nothing wrong with sharing the highlight reel. But, we are not the sum of our photos and status updates. We live in an age where transparency and vulnerability trump discretion at every turn. I can't wrap my head around some of the unattractive ranting, raving, and complaining that happens on social media. We have lost the art of a proper word given at a proper moment for a proper purpose.
Social media sharing sites are a free-for-all.
There is also the problem of current news, politics, world news, and the internet. There are a lot of stressors we cannot avoid because we are caregivers. I once did an online survey from a reputable health site about my "actual age." I was surprised to see that the results added an entire decade to my age because I am the caregiver of someone with special needs.
Stress is not good for the body.
It's necessary to abstain completely from technology and media. They can be powerful tools that improve our lives. I get several blogs and devotionals sent to my e-mail. I love having a phone, knowing I can make an emergency call when I'm driving and find directions to a new specialist. The question at hand is this: Do we want to add the extra and unnecessary negative voices and time constraints that come from unbridled technology and media use?
At the end of the day, no one will quiz us on current world politics or our online presence.
However, if we don't get a grip on technology use, we will lay in bed at night trying to drown out the negativity so that our minds can rest. The full time care of our children with special needs takes a lot of time, energy, and effort. We want our precious children to get our absolute best. To give our best, we have to be our best. To be our best, we might have to go against the cultural grain and pull away from some of the standards of use for technology and media.
To be a better caregiver, we must practice technological restraint.
Do you like what you see at DifferentDream.com? You can receive more great content by subscribing to the quarterly Different Dream newsletter and signing up for the daily RSS feed delivered to your email inbox. You can sign up for the first in the pop up box and the second at the bottom of this page.
Save