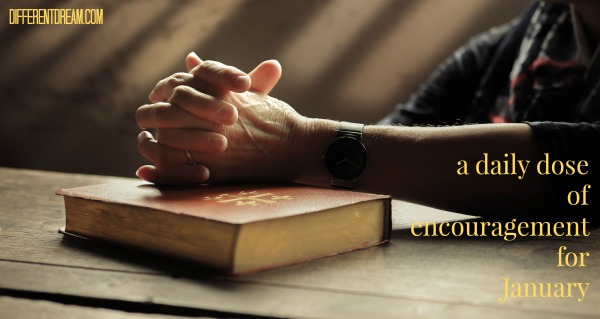 January survival requires a daily dose of encouragement. Why? Because January 2 is the official beginning of the post-New Year's slump and the festivities surrounding it. Waking the kids early so they get to school on time. Which is really early in snowy states where an extra 15 minutes is needed to find and don coats, hats, mittens, and boots. And backpacks. Where are their backpacks? Taking down the Christmas tree. Sugar withdrawal. Sweeping up broken toy bits and tossing them into the trash. And working to get your kids with special needs into a normal daily routine again.
You know the drill. Parents need a lot of encouragement to stay upbeat and energized during this challenging time of year. During the month of January, Different Dream is often a daily dose of encouragement to parents of kids with special needs. Starting today, everyone who's subscribed to the Different Dream mailing list will receive a Scripture-based prayer every day for a month.
Each prayer is designed with parents of kids with special needs in mind. If you've subscribed to the mailing list in the past, the first prayer should already be in your email inbox. If you haven't previously subscribed, all is not lost. Just scroll down the page to the green subscription box, type your information in the white boxes, and hit the subscribe button. Your first daily dose of encouragement should arrive in your email inbox tomorrow.
Happy January 2!
Do you like what you see at DifferentDream.com? You can receive more great content by subscribing to the quarterly Different Dream newsletter and signing up for the daily RSS feed delivered to your email inbox. You can sign up for the first in the pop up box and the second at the bottom of this page.