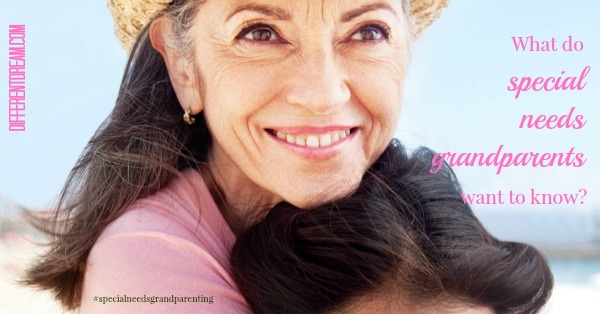 A couple months back, Different Dream conducted a survey for grandparents of kids with special needs. They were asked what types of special needs grandparenting posts they would like to see. They said they would like to see…
More inspirational and encouraging posts
More how to posts
More personal stories from other grandparents
More posts that offer spiritual support
…in that order.
What to Expect in the Special Needs Grandparenting Series
Jolene and other special needs parents will share their experiences in the series. Different Dream has lined up some grandparents of kids with special needs to share their perspective, too. But we'd love to feature a wide variety of grandparenting wisdom and experiences. If you're interested in participating, please leave a comment in the box below and someone from Different Dream will get back to you. And come back next week for the next post in the series about special needs grandparenting.
Part One: Different Dream's Special Needs Grandparenting Series Begins
Part Two: Special Needs Grandparenting 101
Part Three: Special Needs Grandparenting–The First Word Is Never the Last Word
Part Four: The Special Needs Grandparenting Tug of War
Part Five: Special Needs Grandparents Are Part of the Village
Part Six: What's It Like to Be a Special Needs Grandparent?
Do you like what you see at DifferentDream.com? You can receive more great content by subscribing to the quarterly Different Dream newsletter and signing up for the daily RSS feed delivered to your email inbox. You can sign up for the first in the pop up box and the second at the bottom of this page.