Dec 7, 2012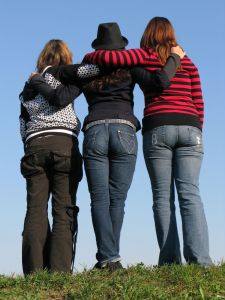 Friendship is a welcome gift to parents of kids with special needs. Lisa Quinones-Fontanez, parent of a child with autism, wrote about how to be a friend to an autism parent in a guest post at Ellen Seidman's blog at Parents.com.
Friendship: Universal Need
But parents of kids with of special needs, whatever the child's diagnosis, have much in common. Like their need for good friends. Maybe that's why Lisa's six suggestions about how to be a good friend will touch a universal cord with Different Dream readers. And maybe that's why Ellen invited Lisa to guest blog, even though Ellen's son Max has cerebral palsy, not autism.
Friendship: 6 Suggestions
Here's what Lisa suggests:
Be Aware…s in become familiar with the diagnosis and specific terminology associated with it.
Be Understanding…when they are too overwhelmed to talk or can't commit to plans.
Just Listen…when your friend needs to vent, talk, complain, or cry.
Be Sensitive…in the words you use. Eliminate derogatory terms like the r-word from your vocabulary.
Make an Effort…to communicate with their child and get to know him.
Offer to Help…in specific ways.
Of course, Lisa explains each suggestion in more details at How to Be Friends with an Autism Parent. So hop on over there to read the whole thing. But remember, her suggestions apply to parents of kids with any special need.
Friendship: Put It on Your Christmas List
Now if you're hungry for friendship, maybe you should put it on your Christmas list. Or at least send the link to Lisa's post to people when they ask how they can support you. Here are two more lists of specific ways friends can help parents of kids with special needs:
What would be the perfect gift from your friends? Leave a comment.
2 Responses to "Friendship: The Perfect Gift for a Special Needs Parent"