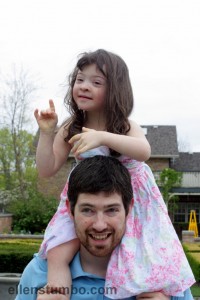 Communication with children who have special needs often requires creativity and flexibility. Today, guest blogger Ellen Stumbo describes the struggles and hopes she has with her daughter Nichole who lives with Down syndrome.
Just for a Day:
Communication with My Daughter Who Has Down Syndrome
by Ellen Stumbo
Just for a day, I wish my daughter with Down syndrome did not struggle with her speech. I know she gets frustrated when we don't understand her, she tries as hard as she can to enunciate her words right, but sometimes, we still don't understand what she is saying. She gets irritated, swings her little arms in desperation and yells at us. I don't blame her, I would feel angry too.
Just for a day, I wish I could have a conversation with Nichole like I do with my other two daughters. I want to hear about her day at school, about what she likes and doesn't like. I would ask her all about her favorite things and I would spend the day talking, chatting, singing with her.
Just for a day, I wish Nichole's speech was clear so that people would actually take the time to notice her, to enjoy her, and to listen to what she has to say.
Just for a day, I wish Nichole could speak her mind, all of it, good and bad. Non-stop chatter coming from her lips and straight into my ears.
Just for a day, I wish it was easy to communicate with my daughter.
She Has a Lot to Say
Nevertheless, Nichole does talk. Sure, her words and phrases might be hard to understand, but she has stories to tell us and things to say. The older she gets, the better her speech becomes, and I am confident that we will get there, that someday she will be talking so much we might even ask her to stop.
Things take Nichole a little bit longer, and it is easy to become inpatient and take what we have now for granted. I love the fact that Nichole grabs my hand and shows me what she wants or needs. I love the fact that she is willing to repeat words after me and her sweet voice is one of the loveliest sounds I have ever heard. I love her "daddy" call, and her laughter that comes from such an overflow of joy. I love how she surprises and amazes me with new words or new statements. And I know we will get there.
How Nicole Communicates
I love the way she signs, or the way she makes up signs. I smile thinking about the way she grabs my face to get my undivided attention, and to make sure I am listening to what she has to say.
I love the way she embraces people without caring what they look like or smell like. I have seen a grown man with tears in his eyes, as he expressed, "She makes me feel loved." And I realized that without words my daughter was able to communicate a love to this man he had never received. And suddenly I wish I could speak her language of unconditional love.
And her speech will not always be an issue, I will have conversations with my daughter, and not just for a day.
Your Communication Struggles and Hopes
Thank you, Ellen, for transparently sharing your dreams for Nicole. She shares more of them at www.ellenstumbo.com.  You can also share dreams you have about communicating with your child in the comment box. Ellen and I would love to hear from you.
Do you like what you see at DifferentDream.com? You can receive more great content by subscribing to the quarterly Different Dream newsletter and signing up for the daily RSS feed delivered to your email inbox. You can sign up for the first in the pop up box and the second at the bottom of this page.