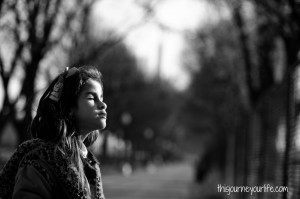 Visual impairment is one of the special needs diagnoses Cami, daughter of guest bloggers Rudy and Rachel Corderio, lives with. Today, Rachel is back with a guest post about what her daughter sees beyond her visual impairment.
Beyond Visual Impairment: What Cami Sees
by Rachel Corderio
One question I have been asked numerous times is, "What can Cami see?"
Whether people asked out of curiosity, fear, concern, sympathy, or their own need to be reassured, I would try my best to answer clearly. Yet with each answer, I grew more dissatisfied with what I said, bothered by something I couldn't explain.
I rambled on about lights, colors, shapes, contrasts and curbs, but found it difficult to express the uncertain.  My answers were colored with illustrations and assumptions based on observations with a hint of my own imagination.
Then, a thought hit me.  After eight years of trying to determine and convey what Cami  could or couldn't see, I realized there was no need to guess.
Why?
Because I already knew.
She sees the wind when it blows through her hair, every strand caressing her face.
She sees the bird whose cheerful song greets her each morning while waiting for the school bus.
She sees the ice cream truck as its faint "Pop Goes the Weasel" music floats into the back yard where she plays.
She sees the tiny bumblebee whose loud buzzing causes her to run away in tears.
I now realize what had bothered me about my answer over the years—it wasn't the truth. I had been so consumed with finding the right answer, I almost missed the obvious;  in the midst of trying to decipher and define what my daughter could see, I was the one who couldn't.
But now I do. And the next time I'm asked what Cami can see, I will answer confidently.
She sees everything. Just differently.
Who Is Visually Impaired?
This post makes me think about who is really visually impaired. Is it Cami? Or was it Rachel before she realized how much her daughter can see? Or is it those who ask about what she can see? Please share what you think in the comment box. I'd love to hear your perspective and Rachel would, too. Remember, you can keep up with Rachel and her family at www.thisjourneyourlife.com.
Do you like what you see at DifferentDream.com? You can receive more great content by subscribing to the quarterly Different Dream newsletter and signing up for the daily RSS feed delivered to your email inbox. You can sign up for the first in the pop up box and the second at the bottom of this page.