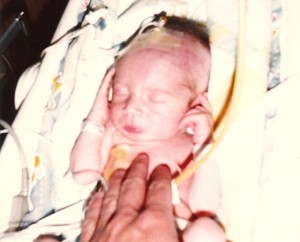 Today, May 24, is the 30th anniversary of our son's admission to neonatal intensive care (NICU). He spent two and a half weeks recovering from a EA/TEF repair while we adjusted to a different parenting dream than we imagined when we learned we were pregnant.
It Seems Like Yesterday
Thirty years is a long time, but I remember the day as if it was yesterday. The sense of helplessness can still overwhelm me. Those memories of those weeks still make me cry. The thought of our son in pain still shudders my spine. We were so young, so far from home, and more alone than any other time in our lives. Our experience and the desire to make other parents feel less alone are why I wrote A Different Dream for My Child and Different Dream Parenting.
But This Is Today
Two books can't reach every parent with a newborn or child in intensive care. So when a friend (one of the contributors to Different Dream Parenting) passed along the name of a website, www.survivalmodeparent.org. The site was created by the friend of a mother who had a long, hard hospital stay with her child. This friend decided to do something to help parents. She created the website which matches parents in NICU or PICUs at major children's hospitals with volunteers in the area. Thirty years ago, an organization like that wasn't possible. Today, thanks to the internet, it is.
You Can Volunteer
Thanks to the internet, you can learn how to volunteer with Survival Mode Parent, too. The organization needs volunteers to support parents with kids in intensive care. But they also need items for a fundraising raffle and for intensive care survival kits. Even if you don't become a volunteer with this organization, check out this post about ways to support parents who have a child in intensive care and pick one of the things to do. Do it in honor of a parent who sat by a child's bedside in the hospital. Or do it in honor of my son, Allen, who turned 30 yesterday and will be a first time daddy this September.
Leave a Comment
Have you spent time with a child in the hospital? Leave a comment about your experience and tell us what encouraged you the most during that stay. I'd start by telling the story of when we locked our keys in the car, and an old woman stripped down to her skivvies on a busy road in a vain attempt to reach them. But you wouldn't believe the story, even though it's true!
Do you like what you see at DifferentDream.com? You can receive more great content by subscribing to the quarterly Different Dream newsletter and signing up for the daily RSS feed delivered to your email inbox. You can sign up for the first in the pop up box and the second at the bottom of this page.