May 1, 2012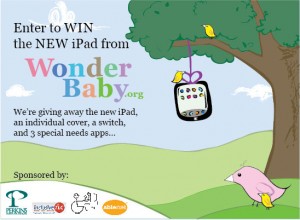 Between free special needs parenting prayer guides, caregiver CD giveaways, adaptive bike giveaways, and now an iPad giveaway, it's feels like Christmas here at DifferentDream.com.
But Who Won the Dignity CD?
Before going into the details of the iPad contest, I'd like to announce the winner of Steve Siler's Dignity CD for caregivers. It is…drum roll please…
Barbara Kane!
Barbara is the mother of two sons, one of whom has special needs. Congratulations, Barbara.
What's This About an iPad Giveaway?
Now on to the iPad giveaway, which is more than an iPad giveaway. It's an iPad + an iPad GumDrop case + 4 switch-ready apps. And the entire package is being given away by Amber Bobnar who blogs at Wonderbaby.org. Amber started the blog in 2006 after her son Ivan diagnosed with a rare retinal disorder at age 1 1/2. Her blog is now funded by the Perkins School for the Blind, which is also one of the sponsors for the iPad contest.
The idea for the contest came about after Ivan received an iPad and enjoyed it so much, Amber wanted to provide a similar opportunity for another child. But she's not limiting the contest to those with visual impairment special needs. Any parent of a child with special needs can enter, simply by sending Amber an email. How easy is that? But you need to do it right away, as the entry period began last week and ends on May 15. So head over to www.wonderbaby.org to read the details and enter the contest.
Come Back and Leave a Comment
While you're at Amber's site, I hope you have time to poke around and enjoy the resources and links she's amassed. Then if you think of it, come back here and leave a comment about what you found. Or leave a comment about future give aways you'd like to see here at DifferentDream.com. I can't promise your ideas will be uses, they will motivate me to seek donations for parents like you.
Jolene
3 Responses to "Special Needs iPad Giveaway at WonderBaby.org"