May 16, 2012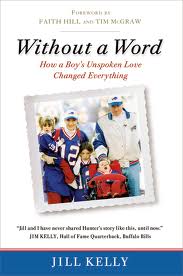 From your comments about last week's Q & A with Jill Kelly (wife of the Buffalo Bill's former quarterback Jim Kelly), the series spoke to many of you. Interviewing her was a joy, and I was delighted late last week when a box of her books arrived on my doorstep. Not just one set of her four books, but three sets, along with a lovely note. The note is now in my special memories file, and one set of the books is sitting on my night stand waiting to be read. But Jill sent the other sets to be shared however I wanted. Which means it's time for a book giveaway. First, here's a look at the books up for grabs.
Without a Word: How a Boy's Unspoken Love Changed Everything
Jill's first book, Without a Word: How a Boy's Unspoken Love Changed Everything is her memoir about parenting Hunter, the Kelly's son with special needs. The summary on the book flap says, "More than a memoir, this book contains a mother's heart – pieces of precious, journaled memories engraved on the author's soul – as well as her long journey from resentment to forgiveness as a wife." This book is signed by both Jill and her husband Jim.
Prayers of Hope for the Brokenhearted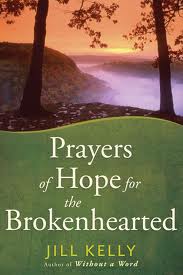 Prayers of Hope for the Brokenhearted is small enough to tuck into a purse or diaper bag. The summary states that "Jill often wrote prayers in her journals. She poured out her anguish, pain, and questions to the One who could comfort, heal, and mend her broken heart." This collection of simple prayers offers solace to anyone who experiences heartache and sorrow. This book is signed by Jill.
Prayers for Those Who Grieve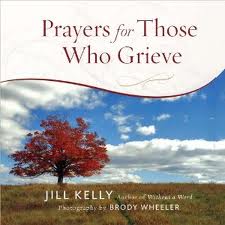 The summary of this beautiful gift book, Prayers for Those Who Grieve, says the following: "In this gift book of comfort, Jill's prayers for those who journey through grief are accompanied by inspiring photographs of nature by award-winning professional photographer Brody Wheeler." Again, this book is a signed copy.
Hot Chocolate with God
This book for tweens is written by Jill's younger daughter Camryn. Jill and her older daughter, Erin, add their advice from time to time, also. The back cover says Hot Chocolate with God is "an interactive journey through this girls-only series…Combining the writings of the Kelly girls with activity elements in an engaging, exciting companion book to every girl's walk with God." This very colorful, fun book is signed by Camryn, Erin, and Jill.
How to Win One of the Books
To win one of the books, just leave a comment before midnight (CST) on June 1, 2012. I am always surprised how few people leave comments to enter the drawing. Maybe you don't think you have any chance of winning, or maybe you think DifferentDream.com uses the contests to  collect information about you. Neither of those two reasons for not entering are true. You have an excellent chance of winning something, and your information is not collected for DifferentDream.com purposes or passed on to any third parties. So enter the contest. Tell your friends about it and encourage them to enter, too. I'm looking forward to hearing from many of you!
17 Responses to "How to Win a Special Needs Book by Jill Kelly"